Irish Young Philosophers Awards 2019
Professor Colin Scott, Principal of UCD College of Social Sciences and Law and Vice President for Equality, Diversity and Inclusion (EDI) welcomed President Higgins and Mrs Higgins to the second Irish Young Philosopher Awards Festival held on Wednesday 15th May 2019, in O'Reilly Hall, University College Dublin.
UCD College of Social and Sciences and Law were delighted to support this wonderful initiative founded by Dr Danielle Petherbridge in UCD School of Philosophy and colleagues in the UCD School of Education.
The number of participants doubled this year with 350 finalists chosen for Wednesday's festival. Students submitted their philosophy projects using various mediums including posters, films, essays, and podcasts. They also visualized their philosophical thinking in mind-maps or posters. Students from third to sixth class of primary school, plus all students at post-primary level, on the island of Ireland were eligible to participate.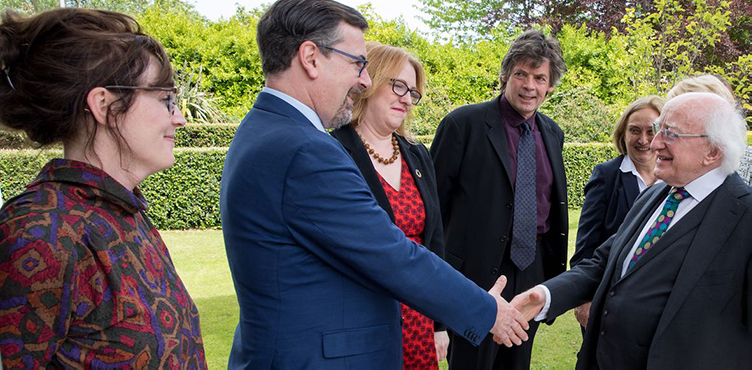 Pictured: Clare Mac Cumhaill, Professor Colin Scott (UCD Principal of the College of Social Sciences and Law and Vice President for EDI), Senator Alice Mary Higgins, Professor Rowland Scout, (UCD School of Philosophy), Professor Maria Baghramian (UCD School of Philosophy), President Michael D. Higgins (President of Ireland).
Schools from all over Ireland are participating in the 2019 IYPA Festival. Students submitted projects on a variety of philosophical topics including the following:
Nature and environmental ethics
Suffering and vulnerability
Ethical companies and corporations
Artificial intelligence and ethics
Freedom and free speech
War and the justification of war
The nature of human beings
Fake news and facts
Justice and equality
Reality and perception
Gender representation
Animal rights and ethics
Good and evil
Forgiveness
Friendship
Happiness
Aesthetics and beauty
Social media and on-line ethics
Critical Thinking
Who can be a Philosopher? Can Young Girls be Philosophers?
The overall winner was Lauren Doyle (16) a transition year student at Mount Sackville Secondary School who was awarded the Grand Prize sponsored by Arthur Cox for her project: "Why is nature beautiful and why do we destroy it?"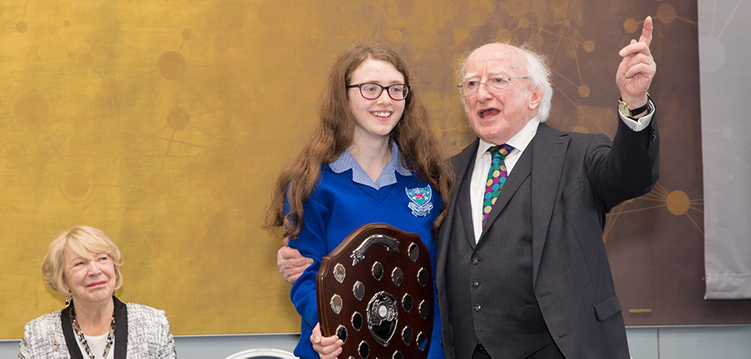 Pictured: Lauren with President Michael D Higgins
Speaking at the event, Dr Petherbridge said "we would like schools from every county in Ireland taking part" - 19 were represented this year - and also more input from Deis schools in disadvantaged areas where additional supports may be required to ensure philosophy is offered as a subject.
"We have been astounded at how enthusiastic the kids are," she added. Because of the increase in numbers "we are running out of room here. We might need a larger venue, or hold it over more than one day".
Reiterating his support for philosophy in schools, Mr Higgins said: "The neglect of philosophy has had such far reaching consequences, putting limits, even diminishing the learning of so many subjects, thus depriving young people of so much of the enrichment of learning, of what the great philosopher Edward Said called the riches that lie in the interstices between subjects."
For more information see the IYPA website: https://youngphilosopherawards.ucd.ie
For inquiries, please contact: youngphilosopherawards@ucd.ie
Other Coverage