UCD College of Social Sciences and Law Teaching Awards
A group of 16 members of staff from the College of Social Sciences and Law were presented with awards for Teaching and Learning in a ceremony on June 14th. The awards recognize the contribution of College staff in two separate categories: 'Teaching Excellence', awarded to faculty who have made a sustained commitment to teaching excellence; 'Outstanding Contribution to Student Learning' which recognises individuals or teams of faculty, staff, tutors or demonstrators who have demonstrated excellence in their commitment to student learning in a variety of different ways.
The award winners first had to be nominated by students or colleagues in order to be eligible to apply for an award. Within the College, 388 staff were nominated, in most cases by students. Nominated staff then applied for one of the awards and were judged on a range of criteria including, for example, their ability to engage and inspire students and their impact on students' educational experiences.
In making the presentation to the winners, Professor Colin Scott noted the excellence of the quality of the support offered to students in the College and spoke of his pleasure in acknowledging the outstanding work of staff. He also noted that 5 award winners from the College had gone on to win University Teaching and Learning awards.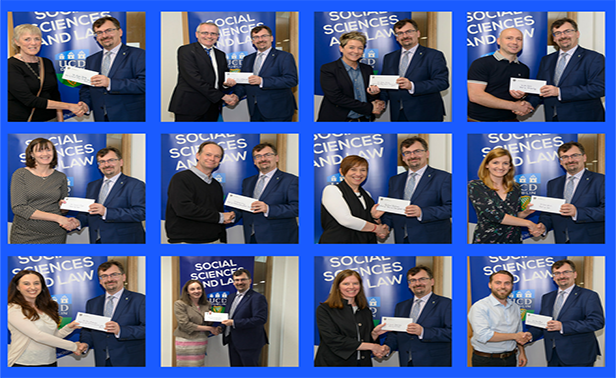 Awards for outstanding contribution to student learning:
Maggie Feeley, Social Policy, Social Work & Social Justice
James McDermott, Law
Aideen Quilty, Social Policy, Social Work & Social Justice
Marie Moran and Judy Walsh (team award), Social Policy Social Work & Social Justice (Not Pictured)
Awards for Teaching Excellence
Neil Carlin, Archaeology
Suzanne Egan, Law
Graham Finlay, Politics and International Relations
Niamh Hardiman, Politics and International Relations
Niamh Howlin, Law
Claire McGuinness, Communication and Information Studies
Niamh Moore-Cherry, Geography
Danielle Petherbridge Philosophy
Aidan Regan, Politics and International Relations
Brendan Rooney, Psychology (Not Pictured)
Thomas Grund, Sociology (Not Pictured)