UCD Festival Day | 9th June 2018 | College of Social Sciences and Law
UCD Festival Day celebrated the 3rd annual event on the 9th of June last with over 15,000 visitors to the campus. The College of Social Sciences and Law has contributed every year since the inception of the event. We are delighted to say that we have grown our contribution year on year with most Schools hosting individual events.
The College had a dedicated space in the student centre atrium with nearly all the activities taking place there.
'Meet your Brian' was an all-day event, with Dr Michelle Downe's research team from the School of Psychology. This was an interactive workshop helping children come up with their favourite activities, writing it down on a tag, and then breaking down their activity into a series of basic steps to see what parts of their brain they use to do their favourite activity. The parts of their brain correlate with different colour beads to make a keyring or a necklace. Included in this space was 'Colouring the Social Sciences'. A colouring activity with a colouring book designed especially for Festival Day explaining social sciences called 'What are Social Sciences?'.
'Story Time' with top selling children's author Dave Rudden was huge success. Dave shared his secrets with an interested audience on how to write successfully.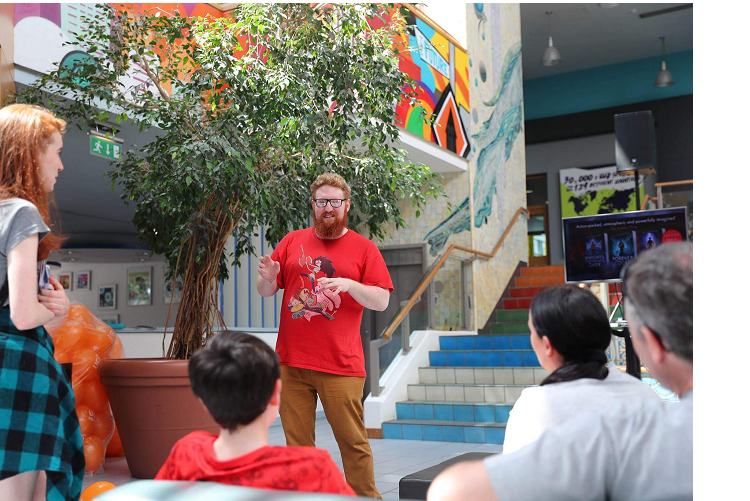 Dave Rudden entertains
Are you feelin it, was a daylong event which show cased the School of Psychology's work in virtual reality and took place in O'Brien Centre for Science. This event explored the intersection of psychology and virtual reality at UCD Festival with VR headsets and immersive simulated experiences. Visitors were surprised by virtual reality experiences that generated real emotions. They discovered how researchers in the UCD Media and Entertainment Psychology Lab use virtual reality to explore emotion, cognition and human behaviour. Fun, interactive and fascinating for adults and kids alike.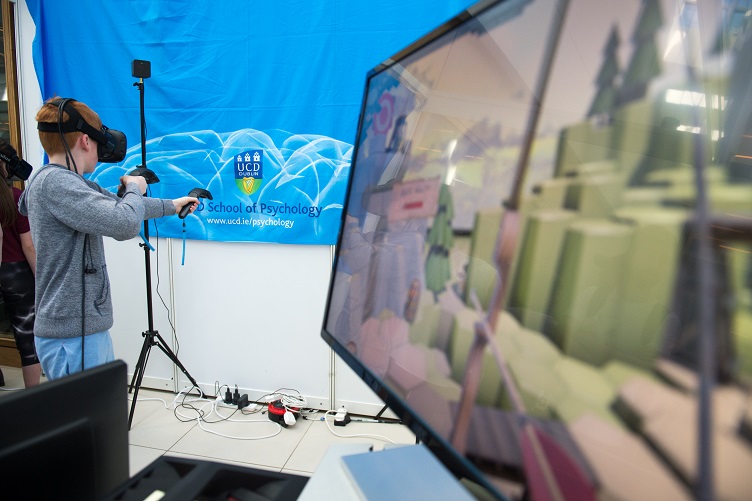 Feelin it with UCD School of Psychology

The UCD Centre for Experimental Archaeology and Material Culture which allowed visitors to step back in time and experience a Dublin Viking House, with tours to their experimental archaeology site.
UCD School of Psychology Youth Mental Health Lab presented a photo exhibition on " Mind-ing your Mental Health". A picture paints a thousand words, so the Youth Mental Health Lab asked their followers to enter their Instagram competition @ucdymhlab with a chance to win a prize and display us-ing a photo what they do to mind their mental health.
Festival Day also saw the return of the very popular Philosopher's Café discussing Buddhism, Work and Idleness, Free will and responsibility, brought to the Festival by UCD School of Philosophy.
Research stories from the College of Social Sciences and Law were told through the medium of an exhi-bition with take away brochures explaining areas of research and work taking place with the College.
UCD School of Politics and International Relations were instrumental in bringing a panel discussion on Vótáil 100: Céard atá romhainn? The panel discussion on Vótáil 100 looked to the past but also more importantly to the future of women's political participation. Featuring Mary McAuliffe, Gemma Hussey, Catherine Martin, Deirdre Mortell and Farah Abushwesha, the panel's discussion touched on women's suffrage, entrepreneurship and the importance of working to ensure a bright future ahead for women in the political landscape of Ireland.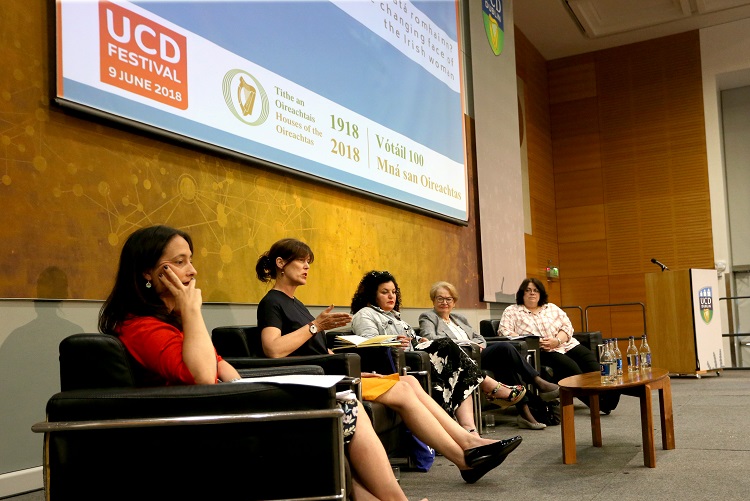 ‌Left to right: Catherine Martin, TD, Deirdre Mortell, Farah Abushwesha, Gemma Hussey and Mary McAuliffe

UCD Festival day has gone from strength to strength in it's short life, and UCD College of Social Scienc-es and Law are delighted to play a large part in the event.