Yeats' Festschrift Collection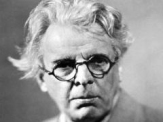 William Butler Yeats
UCD Library Special Collections holds the Yeats' Festschrift Collection.
Identity Statement
Reference code IE/ UCD/SC/YEA
Title
Yeats' Festschrift Collection.
Dates
February 1935–March 1993.
Level of Description
Fonds.
Extent
22 items.
Context
Creator
Francis Hackett

Biographical History
In 1935 the novelist Francis Hackett proposed the publication of a festschrift to mark the 70th birthday of W.B. Yeats.
This book was referred to by Hackett as 'the Irish P.E.N. Book on Yeats'.
Suggested contributors included Sean O Faolain, Oliver St. John Gogarty, L.A.G. Strong, Seamus O'Sullivan, A.E., F.R. Higgins, James Stephens, John Eglinton, Austin Clarke, Desmond MacCarthy and Thomas Sturge Moore.
Source of Acquisition
Donated by Liam O'Leary, February 2008.
Content and Structure
Carbon copies of typescript letters from Francis Hackett to Oliver St. John Gogarty, L.A.G. Strong, F.R. Higgins and John Eglinton outlining the project (February 1935).
Letters of reply from Sean O Faolain, Oliver St. John Gogarty, L.A.G. Strong, Thomas Sturge Moore (February–September 1935).
Notes on contributors and suggested content by Francis Hackett (1935).
Typescript essays for publication: The Metaphysical Poet by Sean O Faolain (25pp), The Poet of the Anglo-Irish by John Eglington (9pp) and an untitled essay regarding Yeats' autobiographies by L.A.G. Strong (21pp).
News cuttings from the Irish Independent containing articles on Sean O Faolain by Hugh Leonard (February 1975; April 1976).
Typescript note by Maurice Harmon concerning the content and literary value of Yeats' Festschrift Collection (March 1993).
Access and Use
Access
The materials in this collection are available by appointment only to research students, reaching staff and scholars. Research students should have a letter of recommendation from their supervisor.
Reproduction
Photocopying or digital photographing of this material is not permitted.
Language
English.
Finding Aid
n/a.