Thomas MacDonagh and The Irish Review
"...it's going to be a fine magazine, its 'make up' at least will be better than any other magazine at whatever price and our job is to see that its contents are up to its apparell [sic] ..."

Source: James Stephens, to Constantine P. Curran, February 8th 1911, UCD Library Special Collections
The exhibition 'Thomas MacDonagh and the Irish Review' showcases the literary career of University College Dublin alumnus and revolutionary figure Thomas MacDonagh (1878-1916), executed for his part in the 1916 Easter Rising.
Poet, playwright, literary critic and editor of the magazine Irish Review, MacDonagh was immersed in the Revival milieu in Ireland and was an active participant in various nationalist projects. One of these projects, the periodical Irish Review (1911-1914), functioned as a forum for a number of renowned Irish intellectuals, literary figures and activists, and illustrates a series of cultural shifts that brought about revolutionary actions culminating in the Rising.
Curated by Dr Giulia Bruna and Catherine Wilsdon, UCD School of English, Drama & Film, this exhibition showcases a selection of items from the Constantine Curran Collection (UCD Library Special Collections), was first displayed during the symposium entitled 'Revival to Revolution: The Literary Career of Thomas MacDonagh' , held at the National Gallery of Ireland, 24th - 25th June 2015.

Revival to Revolution: The Literary Career of Thomas MacDonagh
Check out the online resource, Revival To Revolution, also curated by Dr Giulia Bruna and Catherine Wilsdon This highlights the literary materials presented in the exhibition referred to above - including: books; book plates; letters; and journal materials, along with information about their background and context.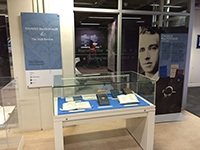 Biographical Notes
Catherine Wilsdon is completing a PhD on J.M. Synge's European encounters in the School of English, Drama & Film at UCD. She was recipient of the Irish Research Council postgraduate award in 2012 and the Irish Research Council's New Foundations Scheme 2 (Marking the National Decade of Centenaries) 2014.
Giulia Bruna (MA, PhD), Research Associate of the UCD Humanities Institute, lectures in the UCD School of English, Drama & Film, and is currently working on a book project on J.M. Synge's travel narratives and Revival travel writing. Her article on William Bulfin's and Robert Lynd's travel writing is forthcoming in 2016.
Catherine Wilsdon and Giulia Bruna are co-founders of the Irish Revival Network, a research network that brings together scholars from a variety of disciplines working on Irish revivalism. They have also co-edited the UCD Scholarcast series "Modalities of Revival" 2015, and a Special Issue of Irish Studies Review (22.1 2014) on revival print and periodical culture "Organised Spaces: Revival Activism and Print Culture".
PJ Mathews, Senior Lecturer, UCD School of English, Drama & Film, is co-editor (with Declan Kiberd) of Handbook of the Irish Revival, published by Abbey Theatre Press, 2015. He is also editor of the Cambridge Companion to J.M. Synge (CUP, 2009), and author of Revival (Field Day, 2003). Dr. Mathews is Director of Academic Podcasting for UCDscholarcast and a member of the governing board of RTE.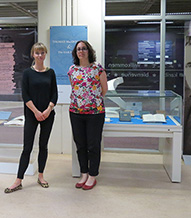 Catherine Wilsdon(l) & Giulia Bruna

PJ Mathews