Professor Brian Farrell, 1929-2014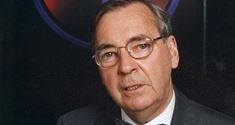 The sad death of Brian Farrell marks the departure of one of the most central figures in the evolution of what is now the School of Politics and International Relations in UCD. Professor Farrell played a major role in the academic study of Irish political development and Irish political culture, setting these in comparative perspective. His many publications exerted a wide influence, and his model of prime ministerial office as varying between the role of "chairman" and the role of "chief" was taken up in the comparative literature. His academic achievements were all the more remarkable in the context of his commitment to public sector broadcasting, and in bringing political analysis to a nationwide audience through RTE. After studying in UCD and Harvard, he joined UCD's administration in the mid-1950s, and in 1966 he became a member of what was then the Department of Ethics and Politics. He played a central part in developing the study of Irish and comparative politics in this small department. As the department expanded, he played a critical leadership role as head of department for several years. He is remembered by generations of students as a kind, accessible and conscientious mentor and lecturer. The members of the school convey their sincere condolences to the Farrell family, not least to Brian's son, David, who is Professor of Politics at UCD. Ar dheis Dé go raibh a anam.‌
---
Second Annual Frontline Defenders Lecture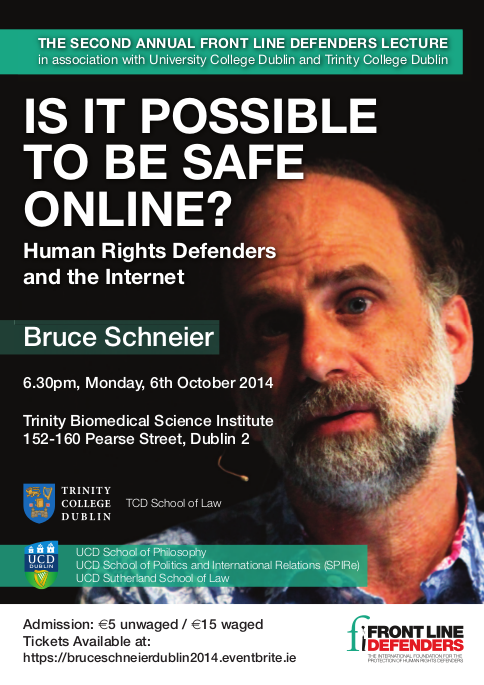 ‌
‌‌
---
UCD Garret FitzGerald Summer School
‌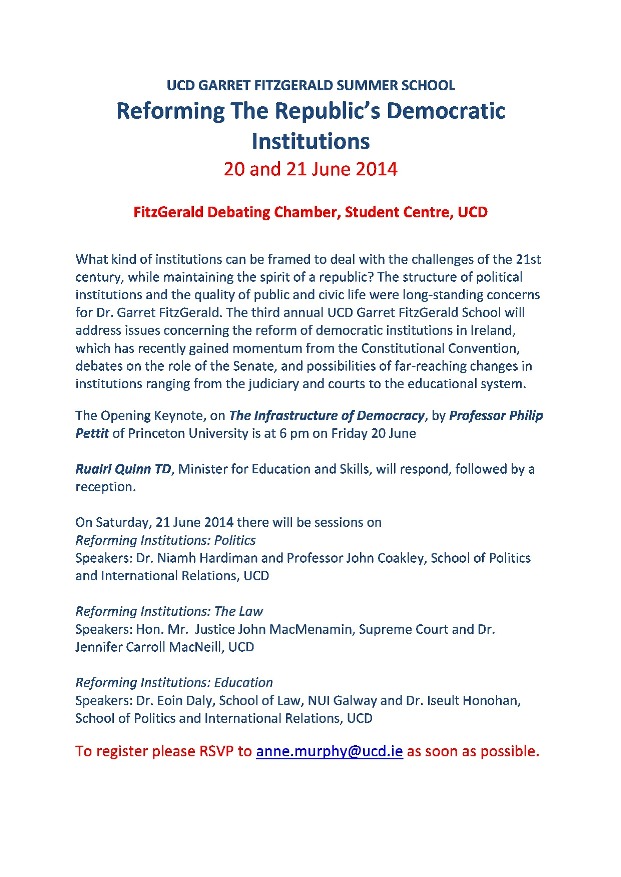 ---
Collective Responsibility: A One-Day Workshop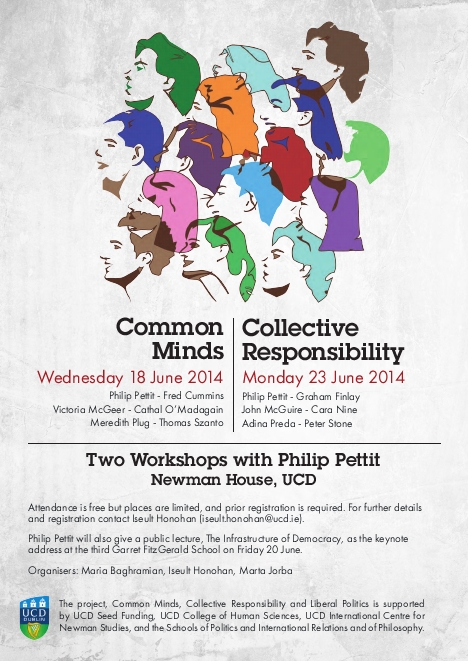 Contemporary liberal political theory tends to see individuals as the primary locus of agency and value, and it may seem to follow that only individuals, and not groups, can be held responsible. But if corporations and other groups can be considered to be agents in some sense, they can be collectively responsible. Philip Pettit has been to the fore in analysing the nature of collective thinking, action and responsibility, while accepting certain individualist assumptions. He has argued that, under certain conditions, groups can act in a way that implies collective responsibility. On Monday 23 June, SPIRe will host a workshop on collective responsibility with Philip Pettit. The issues considered in this workshop have a significant bearing on a wide range of current concerns, including dealing with historic injustice, economic globalisation and climate change.
Programme is available here. Places are limited and registration is required. Contact:iseult.honohan@ucd.ie
This workshop is organised in conjunction with a workshop on Common Minds, as part of the project Common Minds, Collective Responsibility and Liberal Politics, which is supported by UCD Seed Funding, UCD College of Human Sciences, UCD International Centre for Newman Studies, and the Schools of Politics and International Relations and of Philosophy. Organisers: Maria Baghramian, Iseult Honohan, Marta Jorba.
---
DEI Symposium: European Democracy in Crisis?

On March 20th the SPIRe Dublin European Institute hosted an event on "European Democracy in Crisis" to re-launch the Dublin European Institute (DEI) at UCD. The symposium took place in Newman House, St. Stephens Green and opened with a keynote address by the President of Ireland, Michael D. Higgins at 2pm. This was followed by three contributions from leading public intellectuals with diverse scholarly backgrounds, Prof. Kevin O'Rourke (Oxford), Prof. Brigid Laffan (EUI), and Prof. Linda Senden (Utrecht).
The event was designed to engage with as many citizens as possible. It was live-streamed at www.europedebate.ie, and all participants were invited to use social media to share their reflections. The twitter hashtag was #EUDemocracy.
The live stream URL is as follows:
http://media.heanet.ie/live/947ba5b747e542268f091d85e9c85a42
To view the Irish Times coverage of the event click here
---
General John Abizaid presents a talk on 'American Strategic Choices'
The 2013-14 seminar series of the School of Politics and International Relations was inaugurated in UCD's Global Lounge on Wednesday September 18 by retired US General John Abizaid, who spoke on the topic of 'American Strategic Choices.' General Abizaid served for 34 years in the US Army and was, at the time of his retirement, was the longest-serving commander of U.S. Central Command, with responsibility for 27 countries in the Middle East, Southwest Asia and the Horn of Africa. During his career, he served on combat zones in Grenada. Lebanon, Kurdistan, Bosnia, Afghanistan and Iraq. In 2007, he assumed the Distinguished Chair of the Combating Terrorism Centre at West Point.
In a wide-ranging presentation, General Abizaid reflected on challenges facing the U.S. in the Middle East and beyond, noting the instability being generated by current events across the region from North Africa to Syria and Iran and the challenges posed by these for the U.S. and the international community more broadly. He also discussed the future of U.S. relations with China, Russia and other emerging powers. There was a lively and challenging question and answer session following the conclusion of the presentation, which was attended by a large audience which overflowed the venue.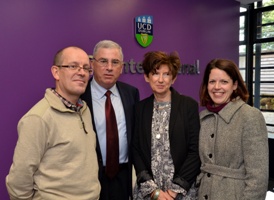 ---
Niamh Hardiman (SPIRe) co-hosts 'Whither Industrial Policy?' Seminar
Niamh Hardiman co-hosted a seminar on innovation and industrial policy with Seán Ó Riain (NUIM) on 25 April, featuring talks by visiting scholars Danny Breznitz and Shiri Breznitz from Georgia Tech. The fully-subscribed seminar drew participation from across the Irish public service and higher education.
To view the seminar programme click here.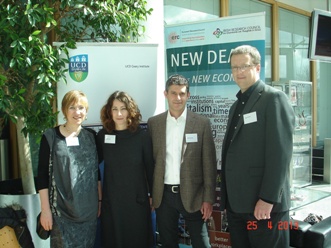 ---
Professor David Farrell (SPIRe) elected as first Speaker of the ECPR Council
Professor David Farrell, Head of the School of Politics and International Relations was recently elected as the first Speaker of the ECPR Council. He is elected for a three-year term. Read More
---
Pathways to Peace: Lessons Learned from Northern Ireland for the Current Colombian Peace Process
A joint event organized in conjunction with the UCD Institute for British-Irish Studies (IBIS), The Latin American Solidarity Centre (LASC) and UCD School of Politics and International Relations (SPIRe)
Time: 17:00-20:00
Date: Tuesday 5th March 2013
Place: Irish Aid Centre, 31 O'Connell Street Upper, Dublin
This open roundtable discussion examined the ongoing Colombian peace process in light of Northern Irish experiences of conflict and peace-building and the lessons to be learned and experiences shared from both in order to ensure a lasting, sustainable and inclusive peace.
Following participants took part in the roundtable discussion:
Mr. Mauricio Rodríguez-Múnera, Colombian Ambassador to Ireland
Ms. Angela Cerón (Iniciativas de Mujeres Colombianas por la Paz)
Ms. Beatriz Quintero (Red Nacional de Mujeres)
Ms. Gloria Amparo Suarez (Organización Femenina Popular)
Ms. Marisol Avendano (Familias Solidarias, FASOL)
Ms. Bronagh Hinds (Director of DemocraShe, Chair of IBIS and founding member of Northern Ireland Women's Coalition party)
Mr Niall Burgess (Director General, Anglo-Irish Division, Department of Foreign Affairs and Trade)
Ms. Valeria Llano-Arias (LASC board member)
The session was chaired by deputy director of IBIS, Dr. Melanie Hoewer
This project was funded by the Irish Department of Foreign Affairs and Trade - Conflict Resolution Unit and UCD School of Politics and International Relations (SPIRe)

---
Women in Development : Leaders without Followers
Michelle Bachelet, considered one of the most influential women in the world, delivered the Kapuscinski Development Lecture at University College Dublin on 21st February, 2013.
Bachelet is the Under-Secretary-General of the United Nations and Executive Director of UN Women. She served as the President of Chile from 2006 to 2010, during which she strongly advocated for gender equality and women's empowerment.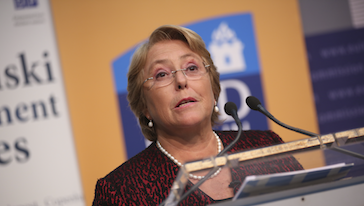 "Today, scepticism about politics, lack of trust in leaders and institutions, and reactive rather than proactive policymaking seems to be a hallmark of our times," said Bachelet addressing a crowded lecture theatre at UCD.
"...to manage today's complex challenges, leaders must first and foremost listen and actively engage all segments of society in problem solving."
"It is only by including all, by coming together that we can face the serious problems of human rights, war and peace, deep poverty and inequality, and humanitarian need, be it from Gaza to northern Mail to Somalia, Sudan, Afghanistan, the Congo and Syria."
"More than a quarter century ago Ryszard Kapuscinski said: 'Society is asking to be more involved in the problems of the world, to be active and personally present," she continued.
"The desire to be involved is not just a personal wish or a societal trend... it is a basic human right articulated in the Universal Declaration of Human Rights and elaborated in international treaties."
"[But] in every country, in every region, people remain excluded from the opportunity to play an active role in public life. They are excluded on the mere basis of their race, income level, ethnicity, age, religion, location, and gender," she noted.
"While women constitute over half of humanity, they are far from enjoying equal rights, equal opportunities and equal participation and leadership with men."
"And this exclusion, this discrimination and this violence based on gender, is one of the biggest obstacles we face in advancing sustainable development."
She continued to speak about deeply entrenched cultural and social norms and discriminatory laws, practices, and policies that hold women back, and the urgent need to gain equal access and rights to education (at all levels) and health (both sexual and reproductive) for women around the world.
"Every person has the right to basic income security and universal access to essential social services such as health, water and sanitation, education and food security," she said.
"The post-2015 agenda will have to rely on a new social contract between states and citizens, which prioritises inclusion, equality, and democratic participation."
According to Bachelet, in the 21st century, leadership can no longer be by control and command. "It is about listening and leveraging a response."
"Now is the time for openness and participation."
"We can no longer pursue public policies that, in effect, save the best for the best and the rest for the rest."
"I ask you to show the heart and the courage to make this century the century of inclusion," she concluded.
The lectures are organised across the European Union by the European Commission, UNDP and partner universities to offer an unprecedented opportunity to learn about and discuss development issues such as climate change, human rights, aid effectiveness, Europe-Africa relations, Millennium Development Goals and more.
The lectures honor the name of Kapuscinski, a Polish journalist and writer, who died in 2007. Kapuscinski, whose books were translated into many languages, was often named the "Third World Chronicler" or the "Voice of the Poor" for his famous reportages and books describing developing countries on all continents. Among other books, he was famous for: "The Emperor" on Ethiopia, "Shah of Shahs" about Iran, "The Shadow of the Sun" about Africa, "Another Day of Life" about Angola, and "Imperium" about the Soviet Union.
The high-level events contribute to the debate and formulation of the European development policy. They are live-streamed and shared at www.kapuscinskilectures.eu
(Produced by UCD University Relations)
---
Final Call for Papers - Latin America at a Crossroads: Between Globalisation and Regionalisation.
Latin America at a Crossroads: Between Globalisation and Regionalisation
23-24 May 2013
Dublin: University College Dublin
The Latin America at a Crossroads Conference is being organised as an interdisciplinary event by scholars from the Schools of Social Justice; Geography, Planning & Environmental Policy; Sociology; Applied Social Science; and Politics & International Relations in University College Dublin.
IMPORTANT DEADLINES
Panel Proposals: 15 December 2012
Abstract Submission: 5 January 2013
Notification of acceptance: 31 January 2013
Full paper submission: 1 May 2013
For more information, visit: www.sites.google.com/site/laciconference
Contact email: LACI@ucd.ie
TYPES OF SUBMISSIONS
We welcome submissions in the form of empirical and scholarly analysis, theoretical papers and creative writing from emerging or established scholars, graduate students, independent scholars, and activists. We invite individual papers and panel session proposals from all disciplines and mixed-methods research.
TOPICS
Proposals are welcomed on (though are by no means limited to) the following issues:
Culture
Identities and Society
Diversity, Equality and Human Rights
Environment and Urban Change
Education, Liberation and Resistance
Gender, Masculinities and Power
Indigenous Issues
Latin America and Ireland
Lessons Learned from Latin America
Media and the Internet
Migration to/from and within Latin America
Neoliberalism, Poverty and Inequality
Politics, Conflict and Social Movements
Sexualities and LGBT Issues
Please send the following information in Word format and in this order:
a) author(s)
(b) a short biographical note (no more than 100 words)
c) email address
d) title of abstract
e) body of abstract (250 words)
f) up to 10 key words
E-mails should be entitled: LACI Abstract Submission, and send to: Laci@ucd.ie
ABOUT LACI
While Latin America is assuming a new role in global geopolitics and its migrant population is reshaping the USA and Europe, "For most Europeans and (US) Americans, Latin America is still little more than their underdeveloped sibling, its inhabitants pitching up on its shores or struggling across the Rio Grande into the USA. It's a place of exuberant music, mesmerising football, extravagant beauty, fantastic literature, drug trafficking and guerrilla warfare in short, exotic, dangerous and exciting" (Guardiola-Rivera). In this Conference, we are interested in challenging stereotypical ideas and representations of Latin America presented in the Global North. As a diverse region of many cultures, nationalities and identities, Latin America is part of a complex, globalised world where interesting economic, political and cultural changes have been taking place.
This Conference builds upon the previous work that scholars have undertaken in Ireland in seeking to strengthen the understanding of and reinforce the links with Latin America and Iberia. As an international gathering, it will also provide a valuable opportunity for insights arising from conceptual, empirical and activist work in the Latin American context, in turn, to contribute to innovations in the study of globalisation and social change in other parts of the world.
---
IBIS hosts Director of Policy, UN Women, Ms Saraswathi Menon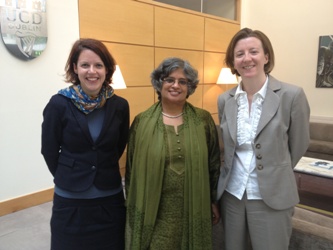 The Institute for British-Irish Studies (SPIRe) and the University of Ulster Transitional Justice Institute will jointly host Director of Policy, UN Women, Ms Saraswathi Menon on Thursday, 25 October 2012. Ms Menon will give a talk entitled 'UNSC Resolution 1325 and the Work of UN Women' in the UCD Research building from 3-4pm. RSVP required. Email ibis@ucd.ie
Ms Saraswathi Menon is currently the Director of the Policy Division in UN Women, the new United Nations Entity for Gender Equality and the Empowerment of Women.
She was formerly Director of the Evaluation Office in the United Nations Development Programme and the elected Chair of the United Nations Evaluations Group that brings together the heads of evaluation of all UN organizations. She was a member of the team of authors who wrote the first six Human Development Reports.
Subsequently she worked on UNDP programmes as Deputy Chief of the Regional Programme in the Regional Bureau of Asia and the Pacific, UNDP Deputy Resident Representative in Nepal (1999-2000) and as UN Resident Coordinator and UNDP Resident Representative in Mongolia (2000-2003).
Prior to joining UNDP she taught sociology in Madras University in India. She has a Ph.D. in Sociology from Jawaharlal Nehru University in New Delhi. Her Ph.D. dissertation was on caste and land control in Thanjavur district during the nineteenth century, and she continues to be interested in multi-dimensional issues of poverty.
---
SPIRe presents at MacGill Summer School
Professor John Coakley, Dr Niamh Hardiman and Professor Brigid Laffan all presented papers at the 2012 MacGill Summer School in Glenties, Co Donegal.
View John Coakley's paper: Institutional reform: necessity or distraction?
View Niamh Hardiman's paper: The rhetoric of reform: what stops reform from happening?
---
GESIS Klingemann Prize & Leon Weaver Award
Russell J. Dalton, David M. Farrell and Ian McAllister are the 2012 winners of the GESIS Klingemann Prize for the Best CSES Scholarship for their book Political Parties and Democratic Linkage. How Parties Organize Democracy, published by Oxford University Press in 2011. The prize is awarded each year for the best CSES scholarship published in the calendar year prior to the award, and named in honor of Professor Hans-Dieter Klingemann, an internationally renowned political scientist, major contributor to comparative research, and co-founder of the CSES project.
For more on the award click on the link below:http://www.cses.org/announce/newsltr/20120510.htm
In addition, the 2012 Leon Weaver Award for the Best Paper Presented at a Conference Panel Sponsored by the Representation and Electoral Systems Division was presented to Russel J. Dalton (UC-Irvine), David Farrell (University College Dublin), and Ian McAllister (Australian National University) for their paper, "The Dynamics of Democratic Representation: How Democracy Works." Their paper was presented at the 2011 APSA meeting in San Francisco. The awards committee included Michelle Taylor-Robinson (Chair, TAMU), Mark Jones (Rice), and Heather Stoll (UC Santa Barbara).
To view the paper, click here
---
SPIRe Book Launch
Minister Brendan Howlin TD launched a new book edited by Dr Niamh Hardiman - Irish Governance in Crisis - at Newman House on 10 July 2012.
For details on the book click here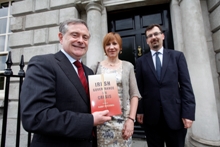 ---
Hidden Voices Seminar and IBIS Book Launch
Hidden Voices: Women dealing with the Past in Central America and Northern Ireland
NUI Head Office, Dublin
Friday, 5th December 2014
RSVP: ibis@ucd.ie
(Space limited)

Looking at the current debate on women, peace and security, the seminar particularly reflects on the question of gendered silences in the narratives of conflict, which inform peace processes in Central America and in Northern Ireland. While the two cases are very different, they share similarities in the way women have been affected by the conflict and how their voices have been silenced in its aftermath.
The aim of this seminar is to extend the critique of feminist scholars on the lack of women's voices in the conflict settlement and peace-building processes. It explores the gendered perspective in conflict narratives and post-conflict politics and the implications of this on how the conflict is framed.
Presentations from:
Dr. Claudia Paz y Paz Bailey - a Guatemalan lawyer, academic and human rights defender/social activist and Attorney General in Guatemala (Dec 2010-May 2014)
Dr. Mo Hume - University of Glasgow, expert on gender and violence in Central America
Laura McMahon - barrister in Northern Ireland
Book Launch
The seminar will close with the launching of the monograph Crossing Boundaries during Peace and Conflict: Transforming Identity in Chiapas and in Northern Ireland, New York: Palgrave Macmillan (2014) by IBIS Deputy Director, Dr Melanie Hoewer
Though worlds apart, Chiapas, Mexico and Northern Ireland have both endured lengthy spans of ethno-national mobilization and conflict, making them ideal locations for a series of case studies exploring how women traverse social and identity boundaries during times of cultural flux. Combining traditional qualitative research methods with active-participatory, visual, and oral didactical research tools, Crossing Boundaries takes an immersive look at the way female activists make sense of themselves and the structures they live in, ultimately making valuable contributions to the study of identity, intersectionality, and boundary processes in peace and conflict situations.
http://www.palgrave.com/page/detail/crossing-boundaries-during-peace-and-conflict-melanie-hoewer/?k=9781137382863&loc=uk