Professor David Farrell wins IRC Impact Award
Professor David Farrell wins Irish Research Council Impact Award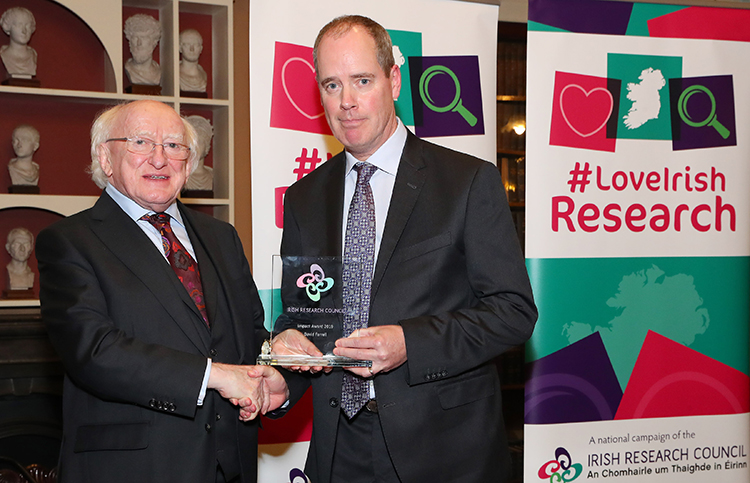 In recognition of his distinguished career, Head of the School of Politics and International Relations, Professor David Farrell has received the 'Impact Award' at the 2019 Researcher of the Year awards.
The academic, from the UCD School of Politics and International Relations, was honoured by the Irish Research Council (IRC) for his significant contributions to research on electoral systems and the politics of representation in democracies.
Now in its third year, the Research of the Year Awards commend the very best of current IRC awardees or alumni working in academia, industry, civic society or the public sector.
President of Ireland Michael D Higgins was guest of honour at the event and presented the awards to the winners.
Each year an 'Impact Award' is presented to an awardee of the Council who is seen to be making a highly significant impact outside of academia.
Professor Farrell was Head of Social Sciences at University of Manchester from 2006 to 2009, after which he became the Chair of Politics at UCD School of Politics and International Relations. He has published 14 books and over 90 articles and book chapters.
Currently, he is a member of the Stewarding Group of the Scottish Citizens' Assembly and sits on the international advisory boards of the 'Electoral Integrity' & 'Making Electoral Democracy Work' projects. In 2018 he was Chair of the Forum on Parliamentary Discipline established by the Ceann Comhairle of Dáil Éireann; and he was also a member of the Welsh Assembly's Expert Panel on Electoral Reform.
In 2013, Professor Farrell was made a member of the Royal Irish Academy, in recognition of the quality of his world-class research.
Speaking after the awards, Vice-President for Research Innovation and Impact Professor Orla Feely added: "I am delighted to see this recognition for Professor David Farrell's outstanding career and for the impact of his work on the politics of representation in democracies.
"David has made distinguished contributions in areas of electoral systems, party politics, representative politics in the European Parliament, and deliberative democracy. His work has had transformative impact, and his expertise is widely sought after around the world."
President Higgins has made research and education one of the key themes of his presidency, championing the importance of cultivating independent thought and academic freedom.
A few months ago, Professor Farrell and Dr Jane Suiter, from Dublin City University, were named as the 2019 recipients of the Brown Democracy Medal – a honour given by the McCourtney Institute for Democracy at Penn State University to the best projects being done to advance democracy across the globe. They were awarded for their work on the Irish Citizen's Assembly.
The success of the Irish Citizens' Assembly project, started in 2011, was influential in the Irish government's decision to establish the Irish Constitutional Convention (ICC) and the Irish Citizens' Assembly (ICA) – both of which played a significant role in the successful referenda on marriage equality and 8th Amendment of the Constitution of Ireland.
Congratulating the 2019 awardees, Chair of the Irish Research Council, Professor Jane Ohlmeyer said: "[Their] work demonstrates the breadth of excellent research that is being carried out in Ireland – the impact of which ripples through multiple aspects of Irish life."
Speaking to the impact of Professor Farrell's work, internationally renowned cultural historian and author, David Van Reybrouck said: "Professor David Farrell is Europe's leading academic on deliberative democracy. His scholarly output is of course prolific and outstanding, but what really sets him apart from many other political scientists is the way he turns the insights from his research on electoral systems and party politics into daring, ground-breaking, and transformative examples of new democracy."