President's Awards for Excellence in Student Activities
The President's Award system was conceived by the Student Consultative Forum in 1993 and has been administered by it since that time with the encouragement of Oifig an Uachtaráin. It has been motivated always by a feeling from the University that certain students make a significant difference to life on campus.
The awards were originally presented at a separate ceremony organised by the Forum; since 2004 the awards are presented at the annual University Awards ceremony. The objective of the President's Awards scheme has been to give recognition to the efforts of students in areas of University life other than the academic, particularly where those efforts provide the leadership, commitment and energy which help to turn UCD into a lively, engaged university community.
Recipients of awards, typically, are actively engaged in service to UCD societies, clubs or the Students' Union, are involved in support services for fellow students or have excelled in competitive activity in the University or in inter-varsity events. The awards are non-competitive, with no upper or lower limits on the number of awards that should be made in any year. The Selection Committee operate off a number of guiding principles, without any strict criteria.
The criteria used for the awards were changed in 1995, which meant that UCD Students' Union officers were no longer eligibile for selection on the grounds that their election was already a public recognition of their worth. The criteria were again reviewed by the Executive Committee of the Student Consultative Forum in 2014, and these guidelines remain in place.
"We would like to think that most members of our student body would have made some contribution to other in their time in College. However, these awards winners have been so outstanding in this regard that they have been selected from among a large number to be publicly acknowledged." Dr Art Cosgrove, President: 1994-2004
Previous Presidents Awards Recipients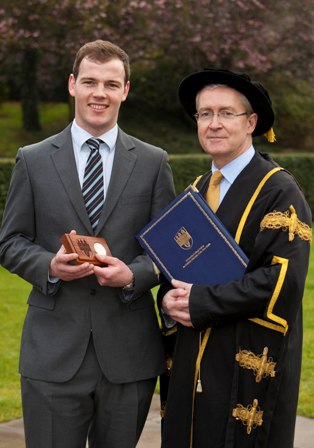 Michael Cawley (UCD Rugby) with former UCD President, Dr. Hugh Brady