11 Jul 2016
UCD's Ciara Mageean ran an incredible and exciting race to win bronze at the European Championships in Amsterdam at the weekend which will give her a huge boost with Rio only weeks away.
Ciara Mageean, the 24 year-old UCD student, from Portaferry on the Ards Peninsula, became only the third Irish woman to medal on the European Championship stage as she claimed a bronze medal at the European championships in Amsterdam.
Once labelled the next Sonia O'Sullivan, Mageean won World Junior silver medallist six years ago but has been hit by a series of injuries that threatened to derail her huge talent and ambition. This, surprisingly was the first Senior European championships for the competitive and talented young athlete. She looked fit and hungry and with a silver so close in her grasp, Mageean has said that "she intends her European Championships bronze to be the first of many...".
Mageean showed yesterday that she is back with a bang, bigger and better than ever and gives Ireland a real chance at a medal in the 1500m when the Olympics track starts on the 12th of August.
Truth is, the way Mageean won bronze leaves little room for disappointment: it's no good being a talent from just the shoulders down, and Mageean used her head as much as her legs when battling hard and then harder again to move into third position down the homestretch.
However the competitive athlete always demands more of herself and despite the amazing performance expressed disappointment in the medal colour!
"I finished that race and I nearly want to put my head in my hands, and go,' God, there's more in me!'."
"Is it bad that I'm a little bit disappointed?" Mageean said afterwards, the UCD student realising how close she'd come to winning a medal of another colour. "I don't know if it's the right thing to say right now, but if I had a clean run, in the home straight, I think it would be a different story. But I'll have to take everybody's advice and enjoy it.
"Still, for me, it's a fantastic place to be, a little bit disappointed with a bronze medal, in my first senior championship proper, ever. I'm ecstatic, with a little touch of disappointment, but I think that's testament to an athlete who wants to do even better than I have.
She finished just .02 of a second behind the defending champion Sifan Hassan, the Ethiopian-born runner now representing the Netherlands, which has been a source of debate throughout the competition, with Poland's Angelika Cichoka striking from the front into the homestretch to win gold.
At one point down the backstretch it appeared Mageean might be in danger of being swallowed, but instead she held her form, and more importantly her head.
Then, coming into the homestretch she moved into fourth, blew past Ingvill Bovin from Norway, and chased down Hassan and Cichoka. The winning time of 4:33.00 reflects the pure tactical race it was, Hassan taking second in 4:33.76, with Mageean just the width of her vest behind, clocking 4:33.78. Another stride or two and the silver medal was surely hers.
"Yeah, I could see she (Hassan) was just in front of me, but then the other girls closed in around me, and I was battling and battling trying to get past people, trying to get up on the inside. Then I had to pull myself up, and go up the back. Give me another few metres and I think I would have had her."
"I know I have a kick and I can outkick any girl in the field. I wish I'd had another 10 metres on that home straight. "I was saying in my head, 'this is fantastic girls, keep running slow because I'm happy to outsprint you come the end'.
‌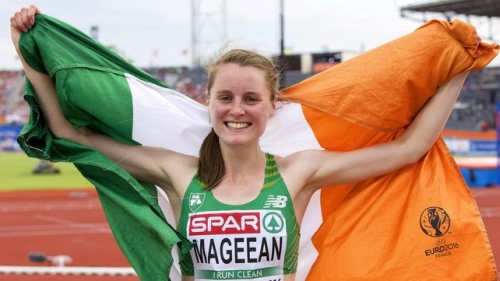 Ciara now joins O'Sullivan and Derval O'Rourke, a former UCD sports scholar, as the only Irish women to medal at these European Championships, first staged in 1934.
These two superb athletes paid tribute to our northern star as well as a number of her fellow Olympians for this summer.