09 May 2016
It was a momentous day for Irish rowing at the European Championships in Germany with a gold for UCD's Paul O'Donovan and his brother Gary in the lightweight men's double sculls.
The O'Donovan brothers, from Skibbereen in west Cork, had almost two seconds to spare over the second-placed team from Germany, winning in a time of 6.57.760
Paul, a UCD Physiotherapy student, and his brother Gary, claimed first place with a stunning performance in the A Final of the lightweight double sculls beating former world champions and race favourites, Norway, who recorded the fastest times in the heats and in the semi-finals, and finished just under a second behind the Germans to claim bronze.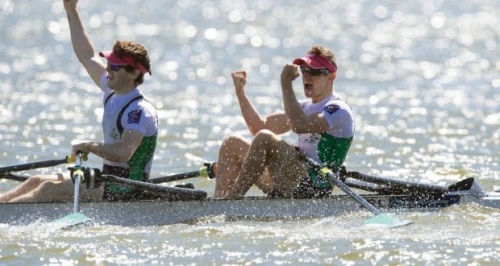 In the semi-finals, it was their first time to beat the Germans, and Paul spoke afterwards of how he was looking forward to "having a crack at" Norway.
They did more than that, and while Paul O'Donovan was keen to point out that the next World Cup regatta, in Lucerne in three weeks' time, will have a bigger range of crews, he said this was a special day.
"It's great. I've been on the podium a few times before, but that's the first time on the middle. Just seeing the flag going up in the middle, and the national anthem playing – it's an incredible feeling. You can't explain it; there's nothing like it."
Paul and Gary who have already qualified for the Olympic Games, won silver at the World Cup Regatta in Italy last month and with their current form their key aim is to produce the best performance at the Olympic Games, and this regatta was a good testing ground for a crew that trains in Skibbereen and is used to going out in all sorts of conditions.
"That has really paid dividends for us," said O'Donovan. "We hear that the wind picks up out in Rio, so it could be beneficial to us out there."
Irish Rower, Sanita Puspure finished third in the Women's Single Sculls Final. Also competing in the Championships was UCD graduate Claire Lambe. Claire coupled with Sinead Jennings in the women's lightweight double, finished ninth overall, third in the B final. They could only finish fifth in their semi-final on Saturday. Their coach, Don McLachlan, said the crew had a disrupted winter – Lambe was injured – but they would improve before Rio. "I'm pretty positive," he said.
However it was a hugely successful weekend for Ireland and the results moved Ireland to sixth place overall in the medal table.