07 Jan 2016
As the revision of Qualification and entry standards for the Rio Olympics was confirmed, as was a place on the team for UCD's Ciara Everard and Ciara Mageean
Athletics Ireland confirm a revision to the qualification process and entry standards for the 2016 Olympic Games. This revision means that UCD students Ciara Mageean and Ciara Everard have now qualified for the Olympics in the 800m.
Coming off the revised IAAF "two way" qualification process for the 2015 World Championships in Beijing the qualification process has now been adopted for the Rio Olympic Games.
As outlined in the updated Rio qualification process any eligible athlete can qualify in one of two ways:
1. Achieve the entry standard within the qualification period
2. Be invited by the IAAF as the best ranked athlete(s) at the end of the qualification period to fill the remaining quota places by event, and respecting the maximum quota per NOC per event.
For this purpose, for each individual event, the IAAF shall publish, on 12 July 2016, specific "IAAF World Ranking Lists for Olympic Games Qualification" with the athletes who have achieved the best performances in the respective qualification periods.
NOTE: qualification in the 5000m, 10,000m and Road Events (Race Walks and Marathon) will be administered by entry standards only (and not by invitation).
The Olympic Council of Ireland accepted the recently amended International Association of Athletics Federations (IAAF) two way qualification process and updated entry standards. The updated entry standards will apply to both past and future performances within the qualification windows.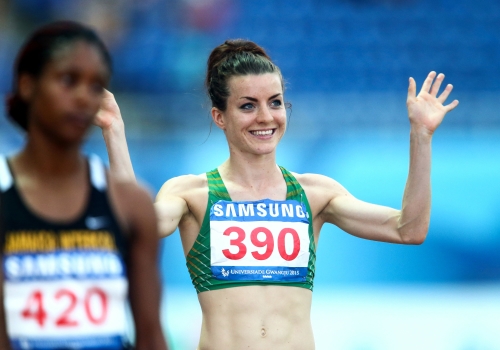 The updated IAAF Rio entry standards were made across 17 event disciplines.
Women's 400m: 52.50
Women's 800m: 2:01.50
Men's 800m: 1:46.00
Women's 1500m: 4:07.00
Men's 1500m: 3:36.20
Women's 5000m: 15:24.00
Men's 3000m steeplechase: 8:30.00
Women's high jump: 1.93m
Women's triple jump: 14.15m
Men's triple jump: 16.85m
Women's shot put: 17.75m
Men's discus: 65.00m
Men's hammer: 77.00m
Women's 20km Race Walk: 1:36:00
Men's 50km Race Walk: 4:06:00
Men's Marathon: 2:19:00
Women's Marathon: 2:45:00
With the updated entry standards in place, the following athletes have achieved the necessary Rio qualification standard retroactively include:
Women's 800m
2:01.21, Ciara Everard, Oordegem 23 May
Women's 1500m
4:06.49, Ciara Mageean, Rieti 13 Sep
Men's Marathon
2:17:19, Gary Thornton, Berlin 27 Sep
2:17:45, Thomas Frazer, Rotterdam 12 Apr
2:17:48, Sean Hehir, Berlin 27 Sep
2:18:45, Eoin Callaghan, Manchester 19 Apr
Women's Marathon
2:42:43, Barbara Sanchez, Valencia 15 Nov