19 Nov 2015
At a reception last night in the UCD Student Centre, this year's GAA scholars were honoured with Noel Delaneys there to present a scholarship on behalf of Grant Thornton, long standing supporters on UCD GAA.
Over 20 scholars across all five UCD GAA sports were present at the ceremony which was opened by Sigerson Captain and Footballer of the Year, Jack McCaffrey.
Last night event was special for a number of reasons. Noel Delaney from Grant Thornton was at the ceremony to offer their continued support of 3rd level GAA scholarships and presented a scholarship on behalf of Grant Thornton to Sigerson Captain Jack McCaffrey and Fitzgibbon Captain Conor O'Shea.
In relation to Grant Thornton, their support of goes back many years to the great Sean Murray and has enabled our national games to thrive. The late Sean Murray who was a partner in Grant Thornton and a former captain of the UCD Sigerson team and a Longford inter county player founded the UCD Gaelic Football graduates committee and was its chairman until his untimely death. Grant Thornton now sponsors a bursary in his name to help promising UCD players fulfil their academic and sporting ambitions.
Noel Delaney spoke about how he is delighted to continue to support the UCD GAA Scholarships despite being a graduate and former Sigerson player for DCU!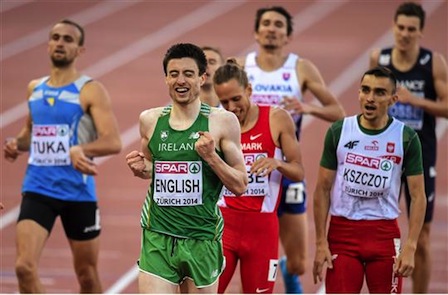 Secondly, the Sam Maguire Cup was a guest of the evening in the Red Room in the Student Centre as students and staff of the UCD campus as well as many UCD GAA club members gathered to have their photo taken with the famous cup.
Present on the night was Mikey Dolan and Dr. Pat O'Neill; members of the UCD GAA Graduate Committee who presented Monaghans Ryan Wylie and Kildares Niall Kelly with the GAA UCD GAA scholarships kindly sponsored by the hugely supportive Graduate committee.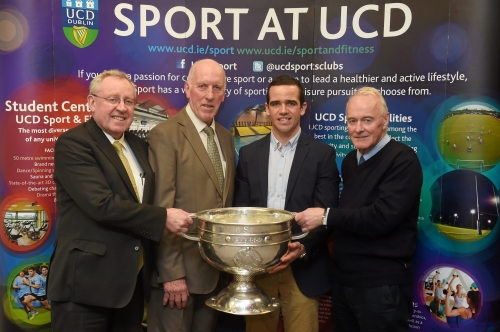 Finally, UCD Sport and UCD GAA were honoured to have Annette Billings, wife of the late Dave Billings at the awards. Annette was presented with a framed UCD jersey on behalf of the club with a message from the captain from each club. Annette gave an emotional and heartfelt address to the students encouraging them to enjoy their time in UCD, value their experiences, do not underestimate the opportunities and make sure to get their exams!
Annette then presented Jack McCaffrey with a printed UCD jersey in recognition of his recent GAA GPA All-Star Footballer of the Year award.
Director of Sport, Brian Mullins thanked all the sponsors and guests for their continued support and in particular Emma McHugh for her fantastic work since the sudden passing of Dave Billings.
Brian also welcomed the new GAA Development Executive, Ger Brennan and wished him well in what is sure to be an exciting yet challenging journey.