11 May 2015
There was huge excitement this week in UCD following the announcement that Ireland received an extra Europa League place through UEFA's Respect Fair Play rankings and that UCD would capitalize on this place.
For those who may be unfamiliar with the Fair Play Award, how it is assessed and how UCD have claimed this spot it is relatively straightforward and a great achievment.
UEFA award extra places to one team from the top three countries in their rankings and Ireland finished third in their chart behind Holland and England. Excitingly, West Ham currently is in pole position to claim the Premier League's spot.
The Fair Play assessments are drawn from the conduct of teams in UEFA competitions in both the club and international sphere; which means that the disciplinary record of Martin O'Neill's Irish side and their underage counterparts counted towards the result.
In addition to the tally of yellow and red cards, UEFA delegates can also add marks under categories such as positive play, respect for the opposition, respect for the referee and the behaviour of the crowd.
UEFA decree that the FAI put forward the club that finished top of their domestic fair play chart for the additional spot. League winners Dundalk, followed by runners-up Cork both had qualified for European competition already meaning third placed UCD gets the spot!
Our very own Collie O'Neill was naturally delighted with the announcement but the UCD gaffer revealed that he hopes that a draw with a team close to home could go his way!
"With my wife due her third baby four days before the first European game, I hope it's not too far away!"
"The news only broke this morning but we've known a bit about it in the background because we've had a lot of paperwork to fill in lately just in case it did come about, so we knew there was something brewing," added O'Neill. "But you still have to wait for the official confirmation. We didn't want to say anything to the players in order to let them concentrate on our main job of getting back up to the Premier Division.
"It's great, it's great for the club. It'll give the place such a boost and financially as well the reward out of it will help us to add to the infrastructure that we have already in place."
With the hard work of qualifying done, unfortunately officially competing is subject to licensing and the process of acquiring a UEFA license to compete is now underway. O'Neill – himself a holder of a UEFA A license coaching badge – is however confident that there will be no problems in this regard.

"There's a precedent in place for where non-league teams or teams from a lower division win a cup competition and then through that qualify into Europe," said O'Neill. "So there is a precedent there where the manager doesn't need a Pro Badge and you work off a lower criteria. That's the route we'll be looking to take.
"It's another little thing to plan, it's a nice little thing to look forward to. Still, even though it's a nice little thing, our main priority is still to try and get back to that Premier Division. That is the key."
Still as Collie says "It's not bad in your first season to make Europe, is it? Manager of the year already!"
UCD's goalkeeper Niall Corbet spoke to Midlands Sport Radio about the excitement among the camp and the current league form.
So It will be the third time that UCD have competed in Europe. In 1984, the FAI Cup holders famously pushed Everton all the way in a 1-0 defeat over two legs in the Cup Winners Cup.
For the home fixture, a crowd of 9,750 packed into Tolka Park to see the game.
UCD coach Theo Dunne had paid a visit to Liverpool to watch Everton in action and the team was well prepared! UCD were as one would imagine under a lot of pressure, but over ninety minutes and stoppage time, the team did everyone connected with the club, the university and the entire game in this country proud. It remains to this date the finest performance against English opposition by an Irish team in Europe. Oh and by the way we are the only League of Ireland team unbeaten at home in European competition. Here's how the two teams lined up.
UCD:- Alan O'Neill; Robbie Lavvlor , Ken O'Doherty, Paddy Dunning, Martin Moran; Robbie Gaffney, Keith Dignam, Paul Roche, John Cullen; Donal Murphy, Joe Hanrahan
Everton :- Neville Southall; Gary Stevens, John Bailey , Kevin Ratcliffe, Derek Mountfield, Peter Reid, Trevor Steven, Paul Bracewell, Adrian Heath, Graham Sharp, Kevin Sheedy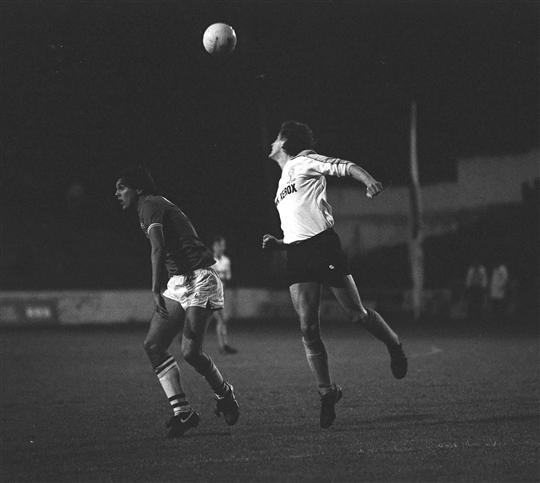 Everton hosted UCD in the second leg of their European Cup Winner's Cup 1st Round 2nd Leg tie at Goodison Park and the score was 0-0 on aggregate. Everton scored in the first half through Graham Sharp. But the expected extra goals never happened in fact a late UCD effort by Joe Hanrahan came off the woodwork and Everton survived to reach the next round.
This Everton squad bolstered by the signing of defender Pat Van Den Hauwe, eventually went on to win the European Cup Winner's Cup that season beating Bayern Munich in the semi-finals and ended up facing Rapid Vienna in the final. They won the game 3-1. They also won the League Championship for the first time since 1970 in what you would now call the English Premier League.
EVERTON:- Neville Southall; Gary Stevens, Kevin Ratcliffe, Derek Mountfield, John Bailey; Terry Curran, Paul Bracewell, Peter Reid, Trevor Steven; Adrian Heath, Graham Sharp SUB Rob Wakenshaw for Heath
UCD :- Alan O'Neill; Robbie Lawlor, Paddy Dunning, Ken O'Doherty, Martin Moran; Robbie Gaffney, Paul Roche, John Cullen, Keith Dignam, Joe Hanrahan; Donal Murphy SUB Paul Caffrey for Roche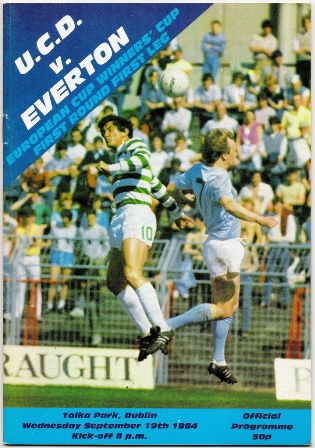 UCD left back at the time, Martin Moran, who is now considered a UCD great having played and managed the club, in fact managing the club when the team when they met FC Velbahzd in 2000, looks back fondly at the 1984 Cup victory and European Cup Winners' Cup but Moran admits that he was most delighted for manager, the late Dr Tony O'Neill.

''I can honestly say, I am now more delighted for Tony. As a player it passes you by but, having been a manager myself, I know you think a lot more about it and I know how much it must have meant to him.''
In 2000, UCD exited the Intertoto Cup on the away goals rule following a 3-3 draw with Bulgarian outfit FC Velbahzd.
At the home draw in Belfield, it was a dream start for College but the lead only lasted five minutes. Poor defending allowed Velko Hristev to pull the ball back for Ivan Stoychev to fire home the equaliser.
Three minutes before half-time a slick one-two between Milhail Mihaylov and Stoychev caught out Eamonn McLoughlin down the right and Mihaylov cut inside Delaney before beating Ryan with a low drive.
UCD were clearly suffering in temperatures that reaching into the high 70s and had a major let-off when Borislav Pavlov hit the post after another defensive error.
One man who seemed to be thriving in the heat was central-defender McAuley and on the hour mark he scored the goal of the game. Picking the ball up in his own half, McAuley surged forward, played a one-two with Kavanagh, and then cracked a rising shot past the 'keeper from just inside the box.
That goal lifted UCD but they were brought back down to earth three minutes later after more poor defending. They got caught with too many players up the field for a free-kick and when the Bulgarians broke with numbers Alan McMahon pulled down Asen Stoyanov inside the box. Substitute Boyko Velichkov coolly converted the spot-kick.
It looked all over at this stage but drawing on their last drops of fitness, UCD kept going forward and deservedly got their reward in the 76th minute from another set-piece as Eoin Bennis teed up substitute Ciaran Martyn for the equaliser.
UCD - Ryan; McLoughlin, Delaney, McAuley, Mahon; Dunne, Kavanagh, Martin (Timmons 89), O'Donnell (Martyn 67), Bennis (Kilmurray 77), O'Byrne.
VELBAZHD - Petkov; Kolev, Goshev, Kotev; Pavlov (R Petrov 70), Stoyanov, G Petrov, Litera (Velichkov 58), Hristev; Stoychev, Mihaylov (Metouched 79). Booked: G Petrov (50), Goshev (75), Kotev (88).
UCD traveled to Bulgaria the following week for the away tie. The Students fought bravely and were bitterly disappointed at the end of a gruelling 90 minutes played in 30 degree heat and sapping humidity. UCD finished strongly but could never mount a serious assault on the Velbazhd goal as the Bulgarians held on for the draw.
UCD: Ryan; McLoughlin, Delaney, McAuley, Mahon; Martin, Kavanagh, Martyn, Dunne; O'Byrne, Bennis. Subs: Kilmurray for Bennis (74 mins), O'Donnell for Martin (82 mins.).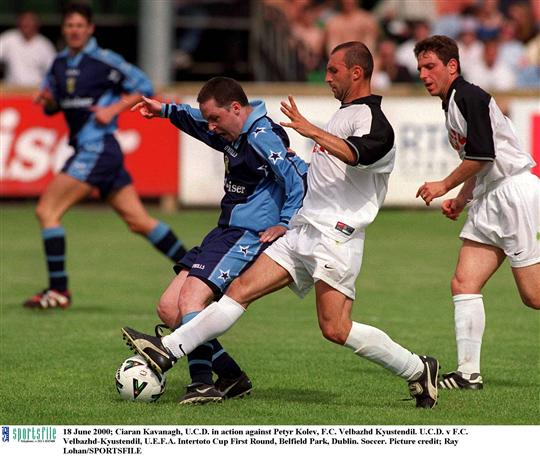 So this years draw…who could it be? West Ham, Everton, Dundee, Aberdeen, The New Saints or further afield to Azerbaijan, Kazakhstan and Iceland? Either way, we shall find out on the 22nd of June in Nyon, Switzerland!