06 Mar 2015
At a reception today in O'Reilly Hall, over 350 UCD students were awarded for their outstanding achievements from academics, sport, and music to awards outside the classroom for excellence in student activity.
These were achievements not only in academics but also in areas of performing arts, choral, orchestral, sport and the prestigious Presidents Awards for excellence in extra-curricular activity.
UCD Sport was proud that two club members from very different sporting disciplines were awarded the Presidents Award. Garry Ringrose (B&L) and Darren Doherty (Grad Med) were deserving winners for their contribution on and off the pitch or the mat in the case of Darren who has been a key member and former captain of the Karate Club. As part of the club, Darren organized a freshers weekend away and a fundraiser for the OLA Missionaries in Tanzania. He is an effective member of the AUC Executive and represents sports clubs on the University Management Team sub group in the Student Experience.
Garry Ringrose is a current U20 Rugby International and nominee for U20 International Player of the Year; an athlete of exceptional standard but Garry has excelled in the classroom with his nomination coming from Dr. Mary Catherine Lucey, Associate Dean of Law.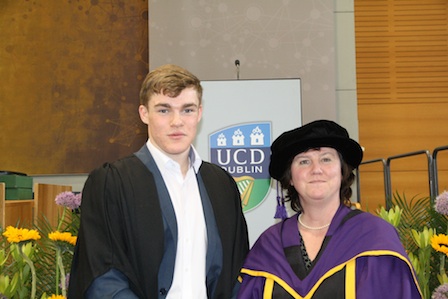 The other Presidents Awards recipients this year were:
Mollie Bruton, Megan Fanning, Sinéad Gaughan, Kelley Gissane, Gráinne Larkin, Aoife Mc Evoy, Kate O'Donnell, Melanie O'Donovan, Daisy Onubogu, Vivienne Phelan, Conor Rock, Sharon Ryan and Danny Salley.
More information on the Presidents Awards and the recipients are available at www.ucd.ie/clubs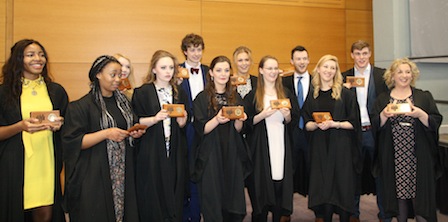 There were a number of sports scholars at O'Reilly Hall to receive their award including UCD U20 Rugby player David Fortune, Hurler Conor Devitt and Footballer Rob McDaid.
Away from the pitch or the court or the swimming pools, UCD Sport was extremely proud that a number of our sports stars were awarded for their non-sporting achievments.
Former UCD Rugby Captain Shane Grannell received an award for physiotherapy, with former Sailing Captain Vincent Varley receiving his scholarship award as an orchestral scholar. Martin Mulkerrins, Ad Astra Athlete and Bord na Gaeilge scholar who recently was runner up in the World Collegiate Handball Championships received an awards for Ag. Science.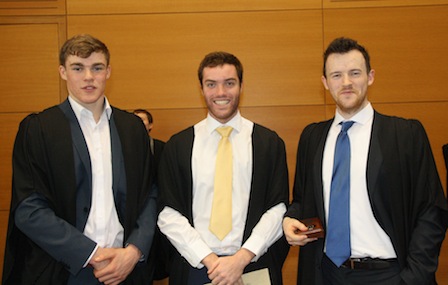 See UCD Sport Facebook for all of the Awards Day photos.