09 Feb 2016
It was a great start for the Bears down at the IndoorIntervarsity Championships in Athlone as Eric Keogh picked up the first medalof the weekend with a silver in the 3000m.
Sarah Lavin and Richard Owens rewrote therecord books on a great day for UCDAC at the Intervarsity Indoors. Lavincompeting in the 60m hurdles, broke Derval O' Rourke's longstanding recordclocking a time of 8.42. Richard Owens controlled the mens 1500m before burningthe field and coming home in a time of 3.54 for his first individualintervarsity title.
Two more Bears struck gold as AislingDrumgoole dominated the womens 400 metres as did Aislinn Crossey over the 800m. Silvermedalists on the day included Eric Keogh in the 3000m (8.46), Ellie Hartnett inthe 1500m (Only beaten by a new IUAA Record) and Damien Landers whose strongkick saw him home to 2nd place.
Conor O' Rourke recorded the only Bronze medal of theday in his usual discipline of the Combined Events while Stephen Gaffney (60m-6.94 PB), Karen Blaney (Triple Jump), Rick Nally (1500m) and the womens relayteam (Crossey, Blaney, Watters and Drumgoole) who all narrowly missed out onmedals taking 4th place.
Ciara Everard continued her good form overin Ghent as she came home in 2nd place in a top quality field, running 2.04.8for the 800m as she continues to build for European Indoors next month. Alsocompeting over the 800m in Ghent were Karl Griffin and former captain Dan King.Sarah Lavin followed her record breaking run in the IUAA championships onFriday with another impressive performance, clocking 8.49 in her final of the60m hurdles.
Over in Boston Ciara Mageean and her Irish DMR teamfinished in 3rd place with a time of 11.03. Ciara's mile time of 4.36 is justoutside the European Qualifying time of 4.34 which she will be targeting in hernext race.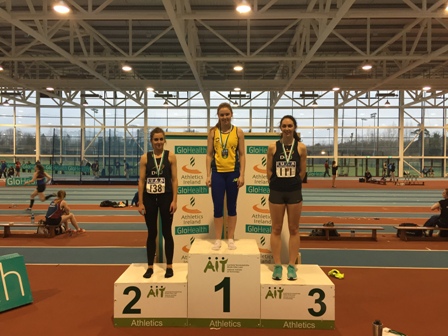 Congratulations to the UCD Athletics team on a verysuccessful weekend.