31 Aug 2016
Paul and Gary O'Donovan are European and now Olympic champions and the siblings have been making quite a name for themselves in recent times.
From Lisheen in west Cork, but rowing with Skibbereen, about 10km down the road, It's the first Olympics for the pair. They qualified for the Games at the world rowing championships last September and they've been going from strength to strength since.
They have now created Irish sporting history by winning a silver medal in the lightweight double sculls at the Olympic regatta in Rio, which is the first ever Olympic medal for Irish rowing.
Speaking after the semi-final race earlier this week, Paul said: "It isn't too complex really. "A to B as fast as you can go and hope for the best. Close the eyes and pull like a dog."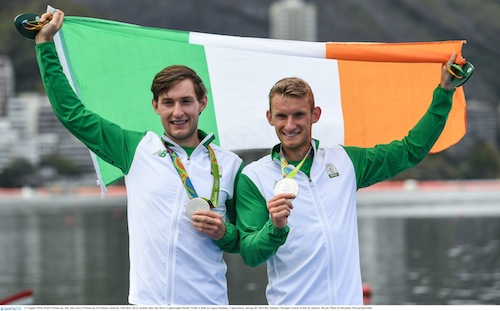 Following the final, draped in the Irish flag, the brothers discussed urine tests, food and what it's like to be an overnight celebrity back home.
"The background might look super-imposed but it's quite real," Gary O'Donovan cheekily announced while standing in front of Rio's main stadium.
Looking a little dazed, the brothers reflected on celebrating and then having to do a doping test.
"I had to do this doping control thing so I was there for an hour or two trying to take a pee into a cup.
"After about 10 litres of water as well — I'm a bit full up now to be honest," Paul said.
"We've been fairly tired. We hadn't had a bite to eat until about two hours after the (celebrations) then we had a bread roll with some Nutella," Gary said.
"We're fairly hungry now but I believe they're on their way with some pizzas for us," Gary said.
Paul and Gary spoke to Darragh Moloney on RTE giving the best post race or Olympic interview ever and the brothers soon gathered attention on social media across the world with some suggesting the brothers deserved gold purely for their hilarity.
Paul is a 4th year Physiotherapy student in UCD and as well as a long list of Team Ireland accolades, he has represented UCD and claimed titles worldwide.
He now leaves Rio and heads straight to Rotterdam, Netherlands to take part in the World Rowing Championships on the 21-28th of August.
Ireland's Sinead Lynch and UCD graduate Claire Lambe had to settle for sixth place in their final of the lightweight double sculls.
The race was won impressively by the Netherlands. They started well and were in the leading group of three with South Africa and the China. As they other two faded, the Netherlands pushed on and held off a challenge by Canada, who took silver, with China third.
The Ireland crew did not start badly and held on to the leading group until halfway. But they needed to be in the mix in the closing stages and were not.
Our UCD Medical student, Mark English had an extremely tough 800m semi final running along side defending champion and world record holder David Rudisha from Kenya.
English passed two runners coming down the home stretch, but it wasn't enough to get within touching distance of Rudisha, who took the win in 1:43.88, with the American Clayton Murphy surprising a few people to second
"Well I certainly wouldn't have done anything different," said English. "I ran exactly the way I wanted, felt good, but the legs just turned to sludge in that last 200m.
"And walking off the track there I think it was acceptance, more than disappointment, that this is where it's at. I gave it everything, have absolutely no regrets. You saw Kszczot didn't qualify. But it's the Olympic Games. You expect that."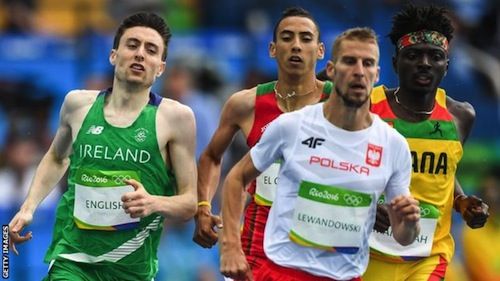 Next up for UCD, Ciara Mageean competes in the 1500m Semi-final late tonight at 1.30am with Annalise Murphy in Sailing Medal race tomorrow, Monday.
Behind Murphy, Belgian Evi Van Acker, the Bronze medallist from four years ago and Finland's Tuula Tenkanen are the Irish sailor's only threats to taking a podium place at the Marina da Gloria venue around 6pm Irish time.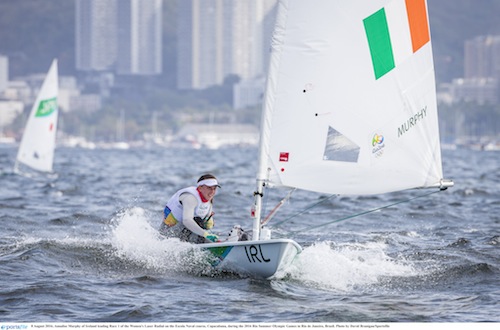 by Georgina Dwyer Aug. '16