31 Aug 2016
The 26-year-old who sails with the National Yacht club in Dún Laoghaire in Dublin, entered the final day of racing in bronze medal position but an accomplished performance saw Murphy overtake Danish rival Anne-Marie Rindom to secure silver and claim Ireland's first sailing medal in 36 years after finishing in fifth place in today's Laser Radial Medal Race.
In a teary TV interview that day, she vowed she would be back.
"Em I'm kind of just a bit shell-shocked," she confessed. "It's incredible to come here today and get a silver medal after four years ago when I was fourth and completely heartbroken. I haven't been sailing very well so we worked really hard over the last couple of months and we knew we could do something really special here….. But to actually go and do it is just amazing."
President Michael D Higgins, Taoiseach Enda Kenny and Minister for Sport Shane Ross all congratulated Murphy on her achievement, saying her success is even more welcome and deserved after the disappointment of her 2012 Olympic medal race.
In a statement, President Higgins said: "Her performance today capped a series of outstanding races. She went to Rio with an Irish tricolour on her sail, and she has made us all very proud.
"On behalf of the people of Ireland, I want to congratulate her on this achievement, and to thank her family and friends for their sustained support for her, and for helping her become such a positive role model for budding athletes everywhere."
Taoiseach Enda Kenny said Murphy gave an "outstanding performance", and that her win is testament to her "hard work, dedication and talent".
He said it was "just rewards for the considerable sacrifices made in pursuit of this Olympic success".
The Minister described her as a "fantastic role model for all young athletes" saying that "Annalise has worked so hard not just for the last week but for the last four years, to overcome the frustration of 2012 and win an Olympic silver medal at Rio is no more than she deserves."
It is Ireland's second silver medal and indeed UCD's second silver medal in these Olympics, four days after the O'Donovan brothers' row in the double sculls.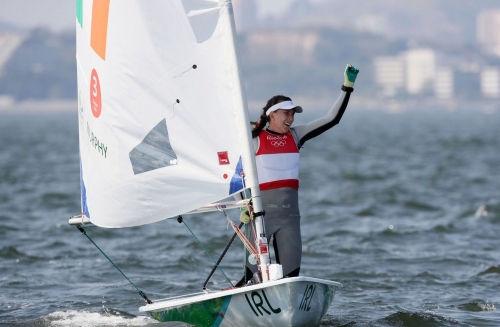 Today at 2.55pm. UCD's Ciara Everard takes to the track in her first heat of the 800m.
The Modern Pentathlon kicks off tomorrow with Fencing as UCD's Arthur Lanigan O'Keeffe is UCD's last athlete to appear on the Rio stage.
We wish them both the best of luck. Check facebook.com/ucdsport and twitter.com/ucdsportsclubs for instant updates on all that's happening in Rio and Sport in UCD.
Georgina Dwyer, August '16