IMNDA present Joe Carthy with Certificate of Appreciation for Walk While You Can
IMNDA present Joe Carthy with Certificate of Appreciation for Walk While You Can
Beginning on Friday 4 October, the Irish Motor Neurone Disease Association (IMNDA) held their annual Patient and Carer Respite weekend in the Hodson Bay Hotel in Athlone. At the event, they presented Professor Joe Carthy with a certificate of appreciation for his leadership of Walk While You Can 2018 with Fr Tony Coote.
Róisín Duffy, CEO of the IMNDA said, "Joe was instrumental in creating Walk While You Can with Fr. Tony. He was there from the start project managing the fundraising drive and the logistics and the success of WWYC is hugely down to Joe and his team Aoife, Holly and Theresa in UCD. Walk While You Can really is what it is today thanks to Joe's commitment and creativity. The While You Can series saw many events take place – not only was there Walk While You Can but we also had Sing While You Can, Dance While You Can and there were even rumours of a Drink While You Can! It's been an honour and a pleasure working with Joe over the last 12 months and we are thrilled that IMNDA gets to take over this amazing campaign and continue the work that Fr. Tony and Joe started."
UCD in the Community look forward to continuing to build on our relationship with the IMNDA and Walk While You Can.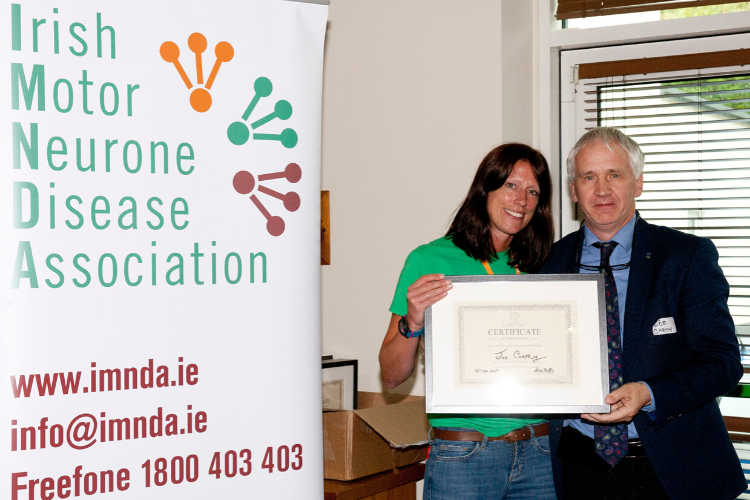 Gemma Watts, National Development Manager IMNDA, presents Professor Joe Carthy with a Certificate of Appreciation for his leadership on Walk While You Can