Recent Awards & Achievements
Congratulations to Dan Davies, Resident in Veterinary Diagnostic Imaging, who presented his study "Effect Of Mas Reduction On Image Quality And Scatter Radiation In Equine Head CT" at the 2019 European Veterinary Diagnostic Imaging (EVDI) Annual Meeting and was awarded Best Resident Presentation.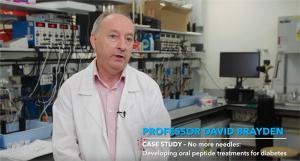 Congratulations to Prof David Brayden, runner-up in the UCD Research Impact Competition with his case study 'No more needles: developing oral peptide treatments for diabetes:' https://bit.ly/34JYfwV David explains this important research here: https://bit.ly/2Lj1HHr
Nicola Fletcher from our Veterinary Biosciences Section has had a case report entitled 'Mesothelioma in two sheep with pericardial effusion and ascites' published in Veterinary Record Case Reports. Nicola's research was carried out in collaboration with APHA Weybridge and Finn Pathologists in the UK.
Congratulations to Prof David Brayden & colleagues on the publication of their paper 'Silica-coated nanoparticles with a core of zinc, L-arginine and a peptide designed for oral delivery' in ACS Applied Materials & Interfaces. See: https://bit.ly/2PiWUIi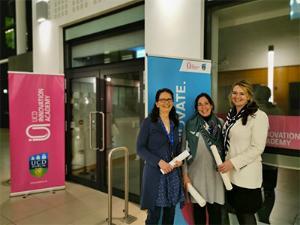 Well done to Sinead Devine, Maria Jose Gomez Sanchez and Emma O'Neill (pictured) who received their Entrepreneurial Educator Diplomas from the UCD Innovation Academy on 29 January.
Congratulations to Sourav Bhattacharjee & colleagues on having their research featured in Advances in Engineering. 'Re-thinking mucus-penetrating nanoparticles using natural sugars' can be accessed here: https://bit.ly/2RdopCZ
'Veterinary Professionals' Understanding of Common Feline Behavioural Problems and the Availability of "Cat Friendly" Practices in Ireland' was recently published in Animals - congratulations to Matt Goins, 3rd yr MVB student, Sandra Nicholson & Alison Hanlon. This paper is from Matt's Student Summer Research project. See more here: https://bit.ly/2Pxnbl7
Recent publications from our Veterinary Nursing Section:
Howorth G, Medicine S of V, University College Dublin, Theo de Waal PhD MRCVS, Sandra Aungier MVM, PhD ALBa. Prevalence of dog and cat zoonotic endoparasites in the greater Dublin area. Veterinary Ireland Journal: http://www.veterinaryirelandjournal.com/ucd-research/120-prevalence-of-dog-and-cat-zoonotic-endoparasites-in-the-greater-dublin-area.
Williamson JA, Brisson BA, Anderson SL, Farrell RM, Spangler D. Comparison of 2 canine celiotomy closure models for training novice veterinary students. Veterinary Surgery: https://onlinelibrary.wiley.com/doi/abs/10.1111/vsu.13224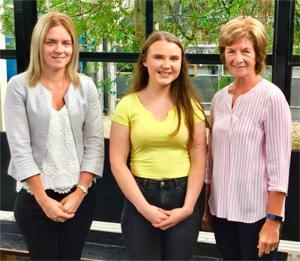 Congratulations to First Year Veterinary Medicine student Una Murray - winner of the Irish Agricultural Science Teachers' Association (IASTA) Marty Barrett Award for the highest mark achieved in Agricultural Science in the 2019 Leaving Cert. Una attended St. Brendan's Community School in Birr, Co Offaly, where she was taught Agricultural Science by Aisling Duane. Una is pictured with Deputy Principal Fidelma Foy and Ming Loughnane, Principal of St. Brendan's.