Joanne Heade - PhD Student at UCD School of Veterinary Medicine and Researcher at AnaBio Technologies Ltd.
Irish company AnaBio Technologies Ltd, which specializes in encapsulation using natural food proteins, opened its new facility in Carrigtwohill, near Cork, recently. Joanne Heade, a UCD School of Veterinary Medicine PhD student, is currently carrying out her research project in collaboration with AnaBio.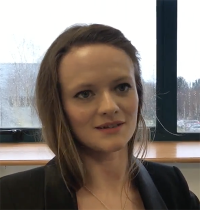 Joanne graduated from UCD in 2014 with an honours degree in Pharmacology. Having enjoyed completing her 4th year research project in the lab of Prof. David Brayden in the School of Veterinary Medicine, she gladly agreed to work as a summer intern there the same year. During that time, Joanne learned a lot about oral peptide delivery and intestinal permeation enhancers.
Her work here also put her in contact with Dr Sinead Bleiel, CEO of AnaBio Technologies Ltd, who gave Joanne the opportunity to carry out a research masters, a collaboration between UCD and AnaBio. In 2015, Joanne graduated with an MSc which focused on intestinal permeation enhancers - this work has recently been published in the Journal of Pharmaceutical Sciences. In 2015, she was also awarded an Irish Research Council scholarship under their Employment-based Scheme. This has allowed Joanne to carry out her PhD as an employee of AnaBio.
Joanne is now in the 3rd year of her PhD and she is due to finish in 2019. She's been working on developing an oral delivery system for insulin which would help the peptide overcome the harsh conditions in the gastrointestinal track (e.g. digestive enzymes) and improve its uptake into the bloodstream. There are two strands to this project: one focuses on intestinal permeation enhancers which are needed to aid the passage of insulin from the intestine into the bloodstream, and the other focuses on encapsulation of the insulin in a protective bead made from milk protein. As Joanne points out, AnaBio has years of expertise in encapsulation of sensitive ingredients, while Prof. David Brayden has extensive knowledge on oral peptide delivery and intestinal permeation enhancers so it's easy to see how this IRC scholarship has created an environment for some great work to be done in the field of oral peptide delivery.
For more on the work of AnaBio Technologies Ltd and Joanne's project see: https://www.dairyreporter.com/Article/2018/04/10/AnaBio-officially-opens-new-facility (Joanne's interview features from 7:56 to 10:00)
Recent Publications:
Heade J., Maher S., Bleiel S., Brayden D., (2018), "Labrasol® and Salts of Medium-chain Fatty Acids Can Be Combined in Low Concentrations to Increase the Permeability of a Macromolecule Marker Across Isolated Rat Intestinal Mucosae" J. Pharm. Sci.
Maher S., Heade J., McCartney F., Waters S., Bleiel S., Brayden D., (2018), "Effects of surfactant-based permeation enhancers on mannitol permeability, histology, and electrogenic ion transport responses in excised rat colonic mucosae" Int. J. Pharm., 539 (1-2), 11-22.