UCDVH News:
13th Annual UCD Veterinary Hospital Conference
This year's UCD Veterinary Hospital Conference will take place on 22 June and the organisers and staff in the School of Veterinary Medicine are very much looking forward to welcoming colleagues from the veterinary professions to UCD. This year, we have a diverse and wide range of topics organised into five streams, with highly qualified national and international speakers covering information that will be very useful for application in clinical scenarios.
The day will kick off with our Business Talk, which this year focuses on 'Growing your Practice - How to Incentivise Vets to Join your Business and Secure it for the Future.' The five streams for the day are Small Animal Medicine, Equine, Small Animal Surgery/Diagnostic Imaging/Anaesthesia, Veterinary Nursing and Farm Animal. See the Conference Programme for further details on talks across the individual streams.
Conference delegates will be awarded 7 CVE points for attending their chosen stream, with an additional 1.5 CVE points available to those attending the Business Talk. Throughout the day, our new Clinical Skills Centre (CSC) will also be open to Conference delegates - students will be on hand in the CSC to explain how the Centre works.
The UCDVH Conference is an important day in the School of Veterinary Medicine calendar as it allows us to meet and host a large number of valued colleagues from many different areas of our profession. In addition, we get to invite world renowned speakers to educate us in current best practice and advances within their specialist fields. We look upon the day as a small way of saying thank you to the profession for case referrals and the immense effort many of you make in supporting our student Clinical EMS programme.
The social aspect of the day is equally important and the meal and coffee breaks are designed to allow you to catch up with friends and colleagues in a very informal setting, as well as view the numerous exhibition stands that highlight what's new in our therapeutic/practice arsenal. We have a wide range of exhibitors this year, and we hope that you will take the opportunity during the breaks and before the Conference starts to visit their stands to review and examine new equipment, products and services and also catch up with suppliers and companies you may already work with.
For further information and to register, please see: http://www.ucd.ie/vthweb/aboutus/ucdvhconference2018/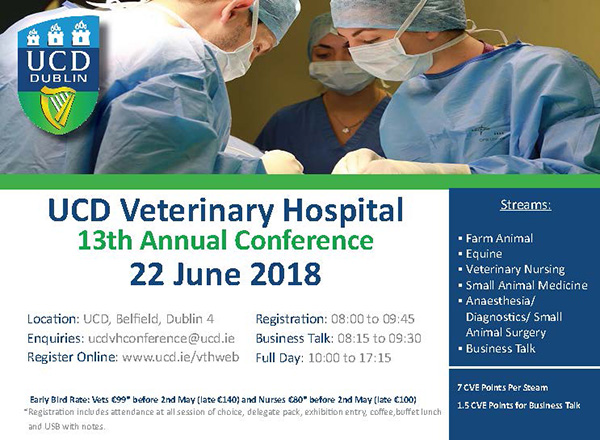 ‌‌