In Profile: Yvonne Drought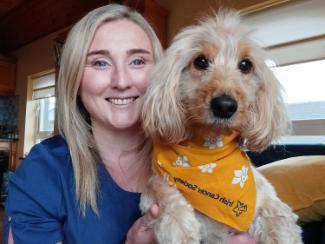 Congratulations to Yvonne Drought whose information leaflets for cancer patients who own pets or livestock were recently published by the Irish Cancer Society. Yvonne is a graduate of our Veterinary Medicine (MVB) programme and is currently working as a vet in Carrick-on-Suir, Co Tipperary. Yvonne was diagnosed with ovarian cancer during her final year in UCD and at the time, one of her biggest concerns about treatment was looking after her dog, Rufus, whilst undergoing chemotherapy. Yvonne was worried about who would mind Rufus, and whether or not it was safe for her to do so. 'I realised there was so much information out there about coping with cancer, but nothing about looking after your pets whilst going through treatment, so I began researching myself, and that's where the whole idea stemmed from,' she says.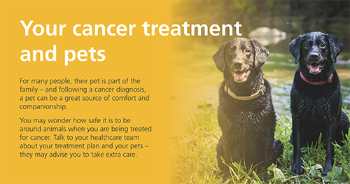 It was Yvonne's veterinary training combined with her own experience with cancer that motivated her to get in touch with the Irish Cancer Society and create the 'Your Cancer Treatment and Pets' and 'Your Cancer Treatment and Farm Animals' information leaflets.The information leaflets are the first Irish publication of their kind, and provide clear and practical advice for pet owners and farmers who are going through cancer treatment; they were written in conjunction with Dr Eoin Ryan, UCD Lecturer in Farm Animal Clinical Studies and Dr Paula Calvert, Consultant Medical Oncologist, UHW and the Irish Cancer Society.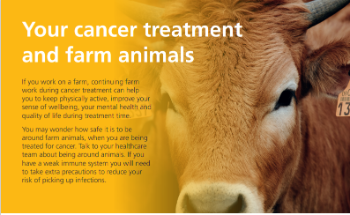 The information leaflets can be accessed here:
To read more about Yvonne's story, see the Irish Cancer Society's Facebook page
Yvonne's story also featured in the Farmers Journal
Doggy bandanas, as supported by Rufus, are available from the Irish Cancer Society, see link below:
https://www.cancer.ie/online-shop/irish-cancer-society-dog-bandana
Contact the UCD School of Veterinary Medicine
UCD Veterinary Sciences Centre, University College Dublin, Belfield, Dublin 4, Ireland. T:
+353 1 716 6100
|
Location Map