Patricia Reilly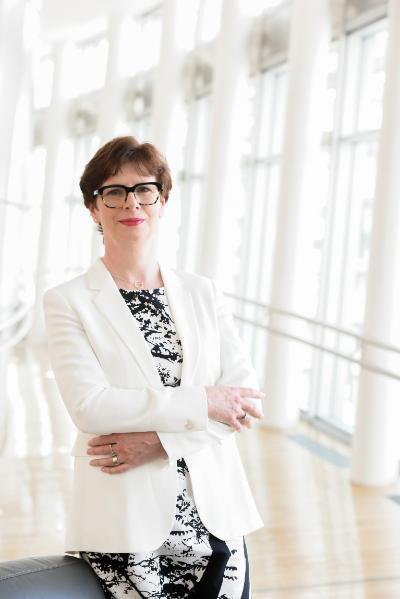 Patricia Reilly is Deputy Chief Veterinary Officer at the Department of Agriculture, Food and the Marine (DAFM). A graduate of the UCD School of Veterinary Medicine, Patricia leads a range of One Health, One Welfare policy areas including Food Safety and Food Authenticity, animal welfare, TSEs, veterinary medicines, antimicrobial resistance, and the national TB Forum.
Patricia started her career in general veterinary practice in rural Ireland. She joined DAFM's National Disease Control Centre in 2001 and served as Ireland's first Agricultural Attaché to Central Europe at the Irish Embassy in Warsaw (2004-2008). In 2010, she joined the Cabinet of Commissioner Máire Geoghegan-Quinn with responsibility for research and innovation policy in health and the bioeconomy, and for developing gender policy for Horizon 2020. She completed a second term with the European Commission as Deputy Head of Cabinet with Commissioner Tibor Navracsics during which time she had political responsibility for higher education policy, the European Institute for Innovation and Technology and the Commission's Joint Research Centre.
Patricia is committed to helping scientists, administrators and political decision makers understand each other's worlds better, and is a strong advocate for diversity and inclusion at every level in public and private organisations.
Patricia is a member of the Board of the Tyndall National Institute. She chairs the Governance Committee of BiOrbic, Ireland's bioeconomy SFI Centre based at UCD. She has been appointed to the Royal Irish Academy's Life and Medical Sciences multidisciplinary committee (2022-2026) and is Ireland's alternate member of the European Food Safety Authority's Governing Board. Patricia is also a member of Cork Midsummer Festival's Board and is proud to volunteer with Women's Aid in her spare time.
Contact the UCD School of Veterinary Medicine
UCD Veterinary Sciences Centre, University College Dublin, Belfield, Dublin 4, Ireland. T:
+353 1 716 6100
|
Location Map