Summer School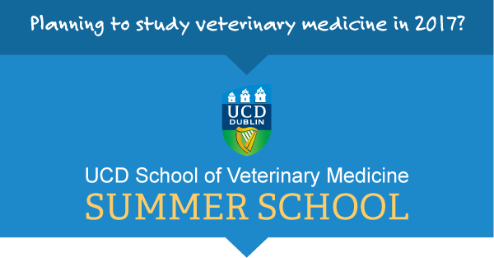 This Summer, the UCD School of Veterinary Medicine is hosting a Summer School for students sitting the Leaving Certificate or A level examinations in 2017 who are considering Veterinary Medicine as a career.
This is a one-week, non-residential course that will cover all major aspects of a career in Veterinary Medicine. The aim of the programme is to give students a taste of what a career in Veterinary Medicine entails, as well as what it is like to be a vet student in UCD. The programme will include talks and discussions from veterinary clinicians, practical lab sessions, demonstrations and visits to animal and veterinary facilities dealing with various species.
2016 Summer School dates (applicants choose their preferred week):
Monday 27th June to Friday 1st July inclusive (9am to 4pm each day)
Monday 4th July to Friday 8th July inclusive (9am to 4pm each day)
The cost of the one-week course is €300 and this includes a packed lunch each day.
Please register your interest by completing the expression of interest form below. If you cannot see the form below, please access it at this link.
DEADLINE EXTENDED: The deadline for expressions of interest is Monday 4th April 2016.
If you have any queries, please contact vetsummerschool@ucd.ie
Please click here for FAQs on the Summer School
Please note that places are limited. You will be informed by email by the middle of April 2017 whether or not you have been successful in obtaining a place on the Summer School.