Academic Book Raffle
Students from the UCD School of Veterinary Medicine raised over €1,300 for charity through their annual academic book raffle. Each year, graduating students are invited to donate their academic textbooks to this charity book raffle and the response is always incredible - this year, we raffled more than 170 books, covering over 60 individual titles, spanning subjects from anatomy to histology and from biochemistry to small animal medicine! The raffle was run online this year for the first time using the iDonate platform and in less than one week, students had raised €1,333 for the ISPCA and for UNICEF's work in Afghanistan. This is the largest amount ever raised through the raffle, and the organisers would like to thank everyone who contributed; the event is a great example of our students being generous, sustainable, and charitable, and their support of this initiative is greatly appreciated. The raffle was a collaboration between UCD Vet Soc, UCD Veterinary Nursing Soc and the Veterinary Sciences Student Adviser, Dr Niamh Nestor, with special thanks to JoJo McDonnell for her invaluable help and support.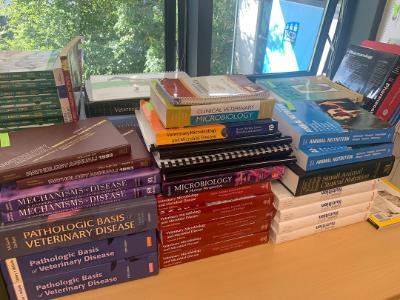 Pictured are some of the more than 170 books that were so generously donated by our graduating students.
Contact the UCD School of Veterinary Medicine
UCD Veterinary Sciences Centre, University College Dublin, Belfield, Dublin 4, Ireland. T:
+353 1 716 6100
|
Location Map