"A Year with COVID-19: The Good, the Bad and the Hope"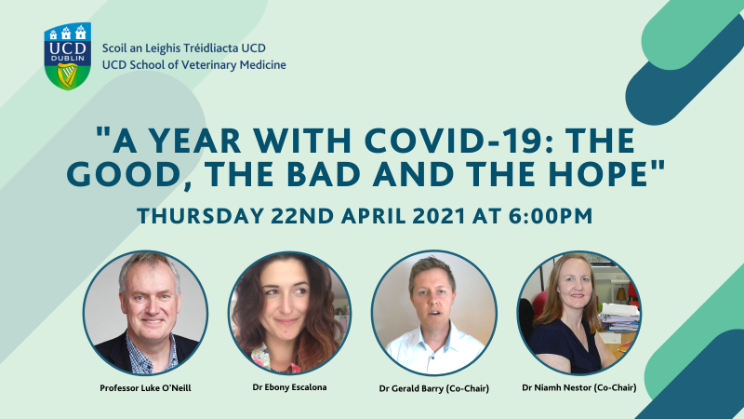 The UCD School of Veterinary Medicine was delighted to welcome Professor Luke O'Neill and Dr Ebony Escalona to take part in a virtual panel discussion on Thursday 22nd April 2021 to examine the impact of the COVID-19 pandemic and the light at the end of the tunnel for people as the vaccine roll-out progresses. You can watch back the virtual events below:
About our Panel:
Professor Luke O'Neill
Professor Luke O'Neill holds the Chair of Biochemistry at Trinity College Dublin where he leads the Inflammation Research Group. His research is in the area of the molecular basis to inflammation with a particular focus on innate immunity, Toll-like receptors, inflammasomes and metabolic reprogramming in macrophage activation. In 2018 he was named by Clarivates as one of the world's most influential scientists, being in the top 1% in Immunology. Professor Luke O'Neill is author of "Never Mind the B#ll*cks, Here's the Science" (2020).
Dr Ebony Escalona
Dr Ebony Escalona is a equine and small animal vet, vetmed educator, speaker and mentor. She focuses on unlocking people's potential and building confidence in others through her advisory positions with the Veterinary Defence Society Training team. She is the founder of the online support platform Vets: Stay, Go or Diversify bringing peer-to-peer inspiration for career pathways within and beyond the profession. Ebony is also an advisor to Streetvet and Kentish Town City Farm and a visiting lecturer at Surrey University and publishes work in the field of gut health on whole horse health. Ebony is the recipient of the inaugural RCVS Inspiration Award.
Contact the UCD School of Veterinary Medicine
UCD Veterinary Sciences Centre, University College Dublin, Belfield, Dublin 4, Ireland. T:
+353 1 716 6100
|
Location Map