MVB Student Wins FVE-MSD Scholarship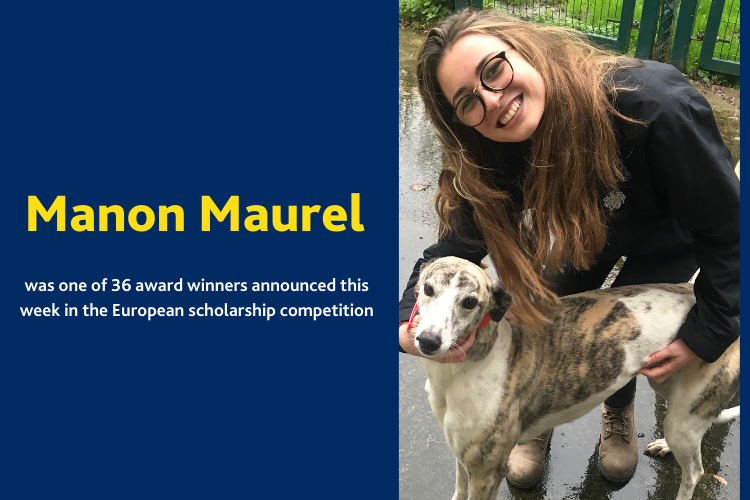 Manon Maurel, Stage 4 MVB, has been named as one of the winners of an MSD Animal Health & Federation of Veterinarians of Europe (FVE) Scholarship. Manon is one of 36 awardees from across Europe to receive a $5,000 scholarship. The scholarship aims to help these students to focus and enhance their academic experience and starting their career.
The review committee selected 36 students out of the 117 applications. The selected students come from the following countries: Austria, Croatia, Denmark, Estonia, Finland, France, Germany, Greece, Hungary, Ireland, Italy, Latvia, Lithuania, Netherlands, Norway, Poland, Romania, Slovakia, Spain,Turkey and UK.
"The scholarships allow us to support and empower young students to become successful professionals" notes FVE President Rens van Dobbenburgh. "In 2020, this became even more important as ever. It has and still is for many students challenging due to pandemic ongoing. We are happy and proud that together with MSD Animal Health, we can support our future colleagues, especially to get through these difficult times'.
Manon is delighted to have been chosen for this award saying "It's such a great opportunity. I am over the moon and very grateful!" Thanks to the bursary Manon plans to travel to the US next year to carry out part of her externships. She explained "I have always wanted to work as a vet in the USA so I planned to do some of my externships abroad to have the opportunity to discover new States and to do some vet work in the USA. So the scholarship will definitely be a great help to finance those externships!"
Congratulations to Manon!
Contact the UCD School of Veterinary Medicine
UCD Veterinary Sciences Centre, University College Dublin, Belfield, Dublin 4, Ireland. T:
+353 1 716 6100
|
Location Map