Dr Alison Reynolds wins Inaugural UCD Allergan Innovation Award
Dr Alison Reynolds has won the inaugural UCD Allergan Innovation Award in recognition of the innovative potential within her research to develop a new therapy for dry eye disease.
Dr Reynolds (pictured right) is an early career researcher in the UCD School of Veterinary Medicine with close ties to the ocular pharmacology and genetics group based in the UCD Conway Institute. This award will provide Dr Reynolds with a research bursary of €7,000 to enable her to develop a novel compound, uncovered in zebrafish, as a dry eye disease therapeutic.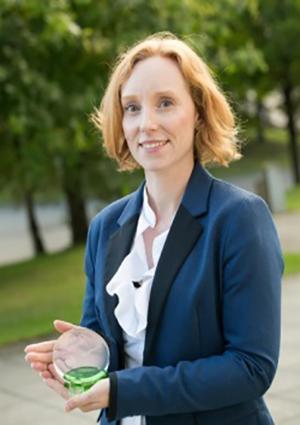 Tears lubricate the front of the eyes and allow us to blink without discomfort. Dry eye disease causes discomfort for up to 30% of people age 65 or older in Ireland each year. Eyes feel irritated, sore and appear red, due to the combined effects of chronic inflammation and the reduced quality of tears that can lead to corneal damage. At present, treatment options for dry eye disease can be of limited benefit to the patient. Dr Reynolds believes that the new compound identified, using tiny tropical fish as a research model, may provide a better alternative for the treatment of dry eye disease.
Speaking after receiving her award, Dr Reynolds said: "The bursary will make a real difference to my research, enabling me to carry out pilot efficacy studies, visit international ocular surface experts and attend the Ophthalmology Futures Forum meeting in 2018. I am very grateful to Allergan for this opportunity. I would also like to thank Enterprise Ireland for funding this work and my UCD colleagues for their contributions and support."
In March 2017, Allergan marked 40 successful years of business in Ireland by announcing details of a new Innovation Award Programme. University College Dublin is one of six Higher Education Institutions around Ireland that Allergan is partnering with to provide funding to accomplished scholars, who wish to advance their innovative research studies in the field of life sciences. Dr Francis Bates, Vice President Global Solid Oral Dosage Manufacturing at Allergan, and the Plant General Manager at the manufacturing facility at Clonshaugh in Dublin presented the inaugural Allergan Innovation Award to Dr Reynolds, at a ceremony during the 2017 UCD Conway Festival of Research & Innovation.

Announcing the winner, Dr Bates said: "We are delighted to be partnering with University College Dublin for this year's Allergan Innovation Award. To mark 40 successful years of business in Ireland, we wanted to build on our longstanding relationships with communities through providing educational support to universities and colleges around the country, by reaffirming our commitment to the future of Life Sciences. Our warmest congratulations to Dr Reynolds and we wish Dr Reynolds continued success with her research treatments for dry eye disease, a key therapeutic area for the Company. We hope that this Innovation Award will inspire more students who wish to establish themselves within the field of Life Sciences. Collaborating with a prestigious university, such as University College Dublin, is an exciting initiative for all involved, and we look forward to the positive results and experiences it will bring for students and for our industry."
Congratulations to Alison from all of her colleagues in the UCD School of Veterinary Medicine.
For more on the UCD Allergan Innovation Award, please see:
http://www.ucd.ie/conway/media/latestnews/newstitle,388393,en.html