Animal Health Awareness Week - "The Frontline at the Farm Gate" takes place 23-28 November 2020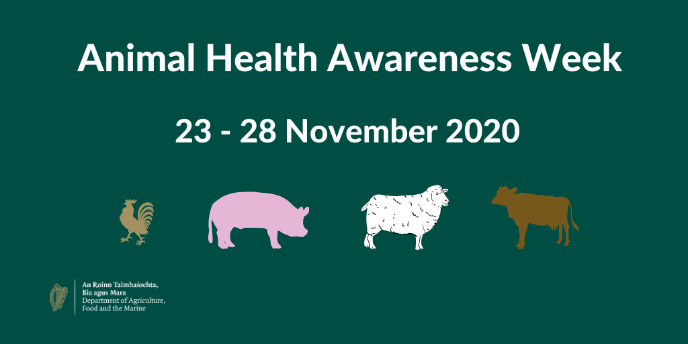 The Department of Agriculture, Food and the Marine held Ireland's first ever Animal Health Awareness Day in 2019. The event was supported by a range of stakeholders from across the agrifood industry and third level institutions including the IFA, Teagasc, Animal Health Ireland, the UCD School of Veterinary Medicine, Veterinary Ireland and ICBF. Important messages around animal health and disease were successfully communicated to a large number of stakeholders through a combination of digital media and more traditional communication methods.
Following on from the success of the AHAD, DAFM is organising the second event of this kind, Animal Health Awareness Week 2020, which will take place next week. The event will feature webinars, podcast appearances, and a social media campaign, as well as interviews and advertisements on local radio and the distribution of leaflets and posters.
This year's theme is "The Frontline at the Farm Gate". Infectious diseases of animals are a threat to livestock farming, the agri-food industry, our economy and our society. Awareness of animal health and disease issues among farmers, vets and others improves our ability to prevent these diseases and to detect them early if they do occur.
Click here to view Animal Health Awareness Week 2020 Brochure
Minister Charlie McConalogue will launch the first in a series of webinars for Animal Health Awareness Week 2020 on Monday 23rd November at 6.45pm.
Monday 23 Nov - 18.45 - 20.30 - "Fighting Pandemics- the Animal Health Frontiers"
Tuesday 24 Nov - 18.55 - 20.30 - "What Lies Beneath- Iceberg Diseases in Sheep"
Wednesday 25 Nov - 18.55 - 20.30 - "Our Greatest Asset – Safeguarding Pig and Poultry Health"
Thursday 26 Nov - 18.55 - 20.30 - "Problems and Opportunities-Cattle Health from different perspectives"
1.5 CPD points available for vets who attend the full webinar.
For further information on Animal Health Awareness Week 2020 and to register for the webinars please see https://www.gov.ie/en/publication/1b1d4-animal-health-awareness-week-2020/ .