School Receives Athena SWAN Bronze Award
UCD School of Veterinary Medicine has received a Bronze Athena SWAN award for its commitment to gender equality.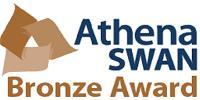 Athena SWAN is a gender inclusion charter and awards framework to advance the careers of women in higher education and ensure gender equality and inclusion for all. The award recognises the School's commitment to transforming our culture and driving gender inclusion for faculty, staff and students. Congratulations to Professor Torres Sweeney, the School's Self-Assessment Team and everyone involved in this fantastic achievement.

The UCD Schools of Agriculture & Food Science, Archaeology and Biomolecular & Biomedical Science have also received the Athena SWAN Bronze Award. Building on UCD's institutional Bronze Award, these awards mark the first round of UCD Schools that have embarked on a data driven audit and a School-wide consultation of gender equality and inclusion among employees and students. As a result of the audits, they have begun to implement ambitious four-year gender equality strategies to ensure gender equality. Professor Orla Feely, Vice President for Research, Innovation and Impact and Chair of UCD's Gender Equality Action Group congratulated the four Schools that have secured Athena SWAN Awards 'based on their strong commitment to transforming their culture, driving gender inclusion and ultimately making UCD a more inclusive place in which to work and study.'