School of Veterinary Medicine - 38th Annual Carol Service
The 38th Annual School of Veterinary Medicine Carol Service took place on Thursday 30 November in the UCD Astra Hall.
The Carol Service is a long-standing tradition in the Vet School, with our talented staff and student singers and musicians bringing some much needed festive cheer to all at the end of Semester 1. This event is also for a good cause, with €706 collected on the night for the UCD Animal Welfare Fund and My Lovely Horse Rescue. We had a full house in the Astra Hall and the audience were treated to festive classics such as Carol of the Bells, O Holy Night and Joy to the World. There were also songs from the Fourth Year and Final Year students, music from our excellent Trad Group and an acro-dance performance from Matthew Sexton and Martha Crowe.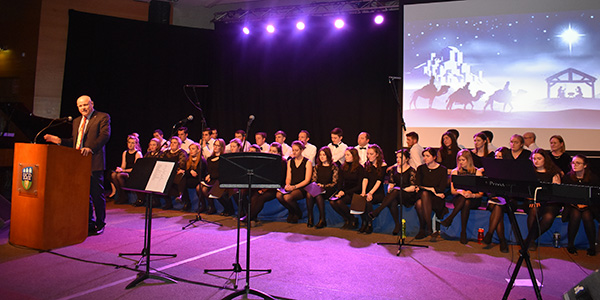 Rory Breathnach carried out MC duties in his own inimitable style, and the Dean, Michael Doherty, recited TS Eliot's Journey of the Magi. Fr. Léon Ó Giolláin, School Chaplain, Niamh Nestor, Vet School Student Adviser, and Diarmuid Ryan, VetSoc Auditor, also addressed the audience. A wonderfully festive evening was rounded off with a mince pies & mulled wine reception! Many thanks to everyone who took part in the Carol Service and to all those who attended and helped to make it such a special evening for the Vet School.
Choir
Conductor - Orla O'Halloran
Piano - Huey Sing Kan (Christine), Philip O'Shea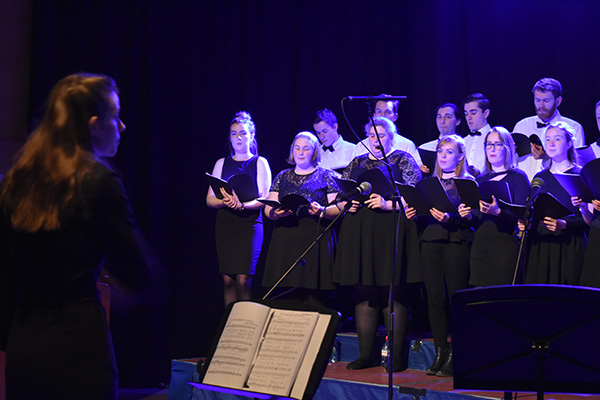 Sopranos - Katie Coonan, Isobel Mason, Roisin McNicholas, Mary O'Flynn, Olwen Claxton, Siobhan McGrath, Patricia Martin, Eva Whelton, Gill Blackburne, Mary Dunne, Ellen Austin, Hannah Nelson, Rachael Murphy. ‌
Altos - Shauna Farrell, Eimear O'Donohue, Martha Julien, Maire O'Reilly, Aiveen Digby, Ruth Gavin, Sarah Barry, Molly Maddock, Ciara Hayes
Tenors - Eoin Ryan, Thomas Clare, Jimmy Wiseman, Aidan Kelly, Lorcan O'Neill, Eamonn Sheehan, Joe Coffey, Padraig O'Driscoll Colm Doherty, Mark Savage, Matthew Sexton
Bass - Martin Breen, Ken Lipsett, Shane Fox, Jack Owens
Trad group
Klara O'Sullivan, Aine O'Driscoll, Neasan McSuibhne, Allison Smith, Diarmuid Ryan, Callum Mussi, Shane Fox, Ciara Barrett, Aine Gunning, Kathy Power, Gussie McCarthy, Elaine Scally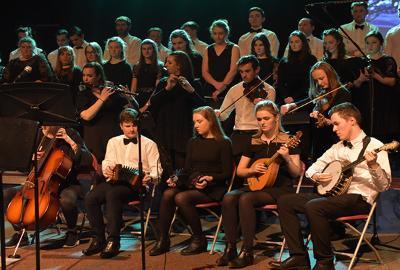 Acro-Dancers
Matthew Sexton and Martha Crowe
‌