Alicia Smyth & Stafford Vigors - 9 October 2018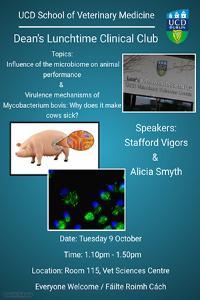 The Clinical Club on 9 October focused on some of the research currently being carried out in the School. Two speakers, Alicia Smyth from Professor Steve Gordon's group, and Stafford Vigors from Professor Torres Sweeney's group, presented on their research projects.
Alicia Smyth - Virulence mechanisms of Mycobacterium bovis: Why does it make cows sick?
‌
‌Tuberculosis in mammals is caused by members of the
Mycobacterium tuberculosis
complex (MTBC), a family of genetically related species that show distinct host preferences. Of principal interest from a
clinical
viewpoint are
Mycobacterium bovis
, the animal-adapted species which has been isolated from lesions in animals including cattle, goats, deer, pigs and badgers, and
Mycobacterium tuberculosis
, the human-adapted pathogen. Alicia's talk outlined how specific interactions between the host and the pathogen may influence how disease is caused in different species.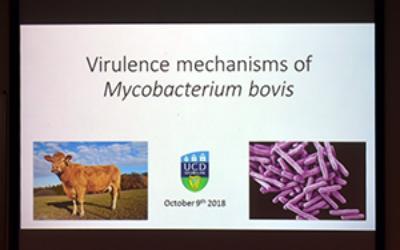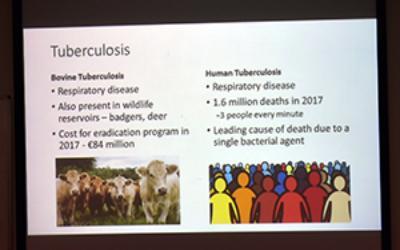 ‌
Stafford Vigors - Influence of the microbiome on animal performance
‌
The intestinal microbiome is a key driver of animal performance due to its fundamental importance in nutrient breakdown and its interaction with the immune system in maintaining animal health. Stafford's presentation explained how we seek to gain an understanding into the effect of genetic selection and dietary strategies on the intestinal microbiome and how this influences animal performance.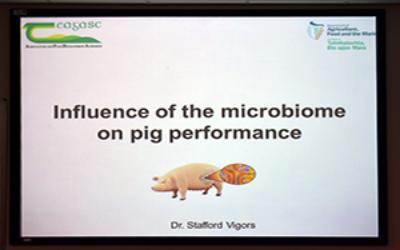 ‌
Contact the UCD School of Veterinary Medicine
UCD Veterinary Sciences Centre, University College Dublin, Belfield, Dublin 4, Ireland. T:
+353 1 716 6100
|
Location Map