Student-led Neurology Case Presentations -
19 November 2019
The final Dean's Lunchtime Clinical Club of the term takes place on Tuesday, 19 November with a focus on Student-led Neurology Case Presentations.
'Veterinary Clinical Neurology' is a case study from the 'Designing for Learning in the Brightspace Virtual Learning Environment' project; Emma O'Neill from our Small Animal Clinical Studies section is overseeing this project.
The module has been developed as a blended learning module and has a core theme of case-based learning throughout the module allowing students to follow cases through their investigation towards a conclusion and showcase how neurological cases are investigated.
Students have worked in teams over the semester and have created infographics to present and explain their cases. They will be presenting these infographics to first and second year anatomy students and a selection will also be presented at the Clinical Club.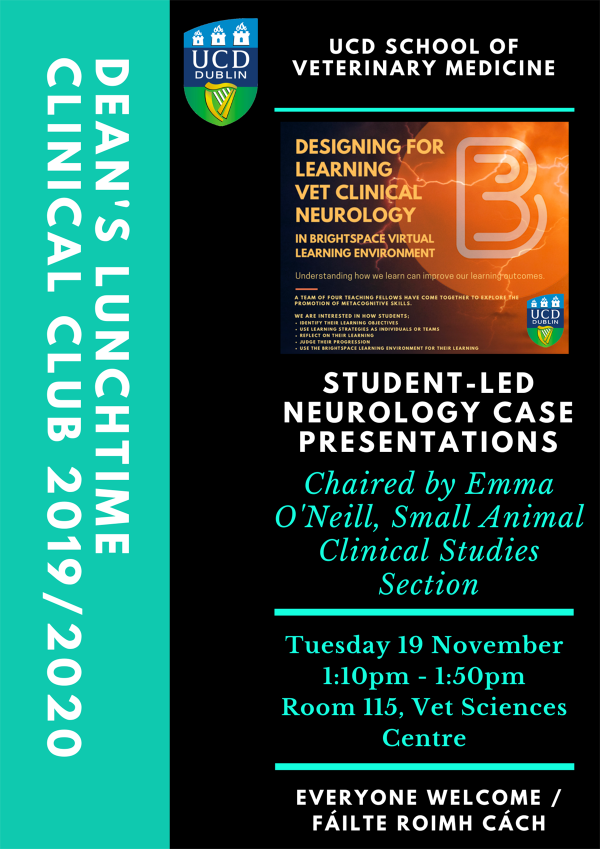 Contact the UCD School of Veterinary Medicine
UCD Veterinary Sciences Centre, University College Dublin, Belfield, Dublin 4, Ireland. T:
+353 1 716 6100
|
Location Map