Dr Desmond Rice OBE - UCD Alumni Award winner for Agriculture and Veterinary Medicine 2017
Congratulations to Dr Des Rice (pictured right with UCD President, Professor Andrew Deeks and Professor Michael Doherty, Dean & Head of UCD School of Veterinary Medicine) who is the 2017 UCD Alumni Award Winner for Agriculture & Veterinary Medicine.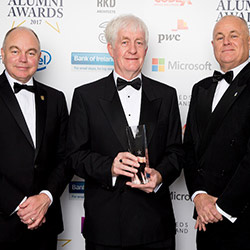 Dr Rice is a veterinarian who specialised in livestock nutrition. After 2 years in veterinary practice in Ireland, he spent 4 years developing a Veterinary Investigation Laboratory in El Salvador. Dr Rice then focused on nutritional-disease research in Belfast for 10 years, obtaining a PhD. He has co-authored close to 100 scientific publications. ‌
He co-founded 2 businesses that for 18 years advised farmers, veterinarians, feed manufacturers, and food processors. For services to the Agrifood Industry he received an OBE from the British Government in 2004. He retrained as a Business Coach and psychotherapist and now provides coaching and mentoring services on strategic, human-behaviour and stress management issues to many businesses and to various community groups including veterinary-peer-supporters, on a voluntary basis.
Click here to find out more about Alumni from the UCD School of Veterinary Medicine and to read our Alumni Newsletter.
About The UCD Alumni Awards
The UCD Alumni Awards proudly celebrate and honour the outstanding achievements of our alumni who uphold values that UCD holds dear – integrity, excellence, collegiality, engagement, creativity and diversity – values that we believe are in the DNA of our University. Representing the diversity of UCD, awards are presented in the following categories: Agriculture and Veterinary Medicine; Arts; Business; Engineering and Architecture; Health Sciences; Law; Science; Social Science; Sport and Research, Innovation and Impact. The Class of 2017 Alumni Awards were presented on November 10 2017, at a black-tie ceremony in O'Reilly Hall, in front of an audience of over 400 distinguished graduates, friends and staff of UCD.​
For more on the UCD Alumni Awards please see http://alumni.ucd.ie/awards/