Research Report on Farm Animal Welfare in Ireland Launched
The research report Challenges and Solutions to Supporting Farm Animal Welfare in Ireland was launched by Michael Creed TD, Minister for Agriculture, Food and the Marine, on 21 June 2018.
The report was commissioned and supported by the Department of Agriculture, Food and the Marine (DAFM). It was compiled by independent Social Science consultant Catherine Devitt, along with involvement from the UCD Centre for Veterinary Epidemiology and Risk Analysis (CVERA) and the UCD School of Veterinary Medicine.
The report provides a context for the human dimension of farm animal welfare by drawing on international research and perspectives on the human-animal relationship, and integrating findings from existing research on farm animal welfare in Ireland. The report offers objective recommendations for policy makers and practitioners for addressing farm animal welfare problems. These include recommendations for early intervention, building on-farm capacity, and collaboration between government agencies.
A facilitated discussion is planned for later in the year, which will bring together a range of stakeholders to consider report recommendations in detail.
The report can be accessed here:
https://www.agriculture.gov.ie/media/migration/publications/2018/ChallengesSolutionsSupportingFarmAnimalWelfareIreland210618.pdf
‌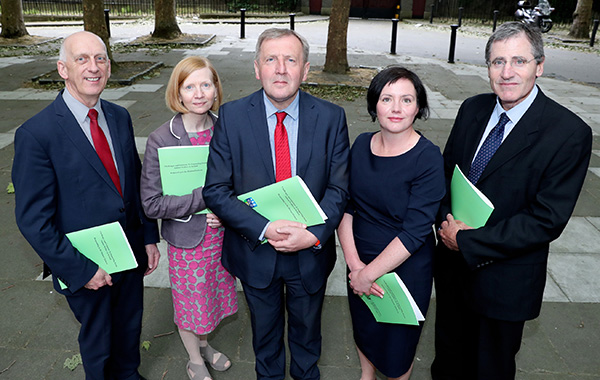 From L to R: Martin Blake, Chief Veterinary Officer, DAFM; Assoc Prof Alison Hanlon, UCD School of Veterinary Medicine; Minister Creed, DAFM, Catherine Devitt; Prof Simon More, UCD CVERA