Article on 'Motivation and Prior Animal Experience of New Vet Nursing Students' Published in JVME
An article co-authored by Assoc Professors Deirdre Campion and Vivienne Duggan from the UCD School of Veterinary Medicine, entitled 'Motivation and Prior Animal Experience of Newly Enrolled Veterinary Nursing Students at two Irish Third-Level Institutions,' has been published in the Journal of Veterinary Medical Education. The article was also co-authored by Karen Dunne and Bernadette Brereton from Dundalk Institute of Technology.
Motivation and Prior Animal Experience of Newly Enrolled Veterinary Nursing Students at two Irish Third-Level Institutions
Veterinary nurses and veterinary technicians really enjoy working with animals and report this as one of the most rewarding aspects of their career. However, their motivation can be eroded by low pay and poor working conditions, causing many experienced veterinary nurses to leave the profession. This study aimed to investigate the reasons why students choose to study veterinary nursing. The authors are involved in veterinary nursing education and had noticed that many students entered the course with a strong love for animals but little experience in handling or caring for them. A similar pattern has been reported in students of veterinary medicine and the authors wished to explore the reasons behind this trend.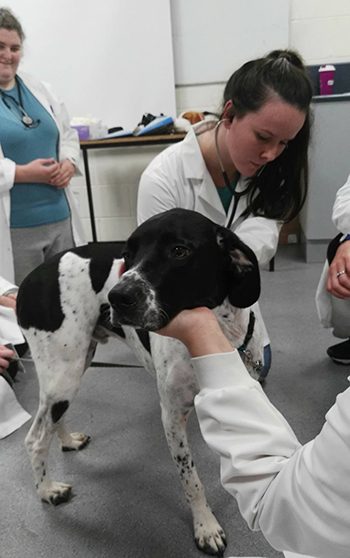 First year students in two veterinary nursing degree programmes in Ireland were invited to take part in the study. They explained their reasons for choosing to train as a veterinary nurse and the level of animal experience and veterinary workplace exposure they had obtained prior to starting college.
The results show that veterinary nursing students are highly intrinsically motivated to work with and care for animals. Most had spent some time in the veterinary workplace before starting their studies (typically as volunteers or observers), but they had limited animal handling experience beyond that of family pets, mostly dogs. This was found to be due to a lack of opportunity to gain experience, rather than a lack of interest on the part of the students.
Providing practical animal handling training to veterinary nursing students requires the investment of significant time and resources by educators. However, the results of this study demonstrate that it should not be assumed that students start their veterinary nursing education with lots of prior animal handling experience. Additional investment in such training may be necessary to help students safely develop the expertise they need to effectively and safely handle the animals under their care.