New publication highlights world-class European research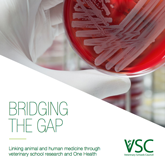 The Veterinary Schools Council today publishes Bridging the Gap: Linking animal and human medicine through veterinary school research and One Health. It highlights the world-class research undertaken in veterinary schools of the UK, Ireland and the Netherlands, and shows how this research has had real impact across Europe and beyond.
Its case studies are divided into three major areas, with the first being food security. An increasing global population makes the prevention of disease and production of safe, high quality food an ever more crucial area of research. In this our veterinary schools are leading the way, from using genetics to breed out resistance to certain infections in salmon, to new methods in bovine tuberculosis testing which have reshaped government thinking.
The publication's second area of focus is policy. The showcased research revolves around meaningful impact; in areas like animal welfare this means not just identifying problems but communicating them to those in positions of influence and assisting in the improvement of regulations and laws. An example of this is the research which played a significant part in the European Commission's decision to ban conventional cages for battery hens across the EU.
An overriding theme is the interface between animal and human health, or One Health. This is the third area of focus. Professor Nigel Gibbens, Chief Veterinary Officer for the UK, notes in his foreword that 'Animals and humans have long been interdependent, but the nature of this dependence is always changing'. This point of crossover can be seen in research to help populations with the control and elimination of rabies, as well as in the crucial task of reducing the use of antibiotics.
Professor Ewan Cameron, Chair of the Veterinary Schools Council, says:
'Bridging the Gap shows that research in our veterinary schools is world-class. It also makes clear the level of cooperation that veterinary researchers in the UK have with European colleagues. In this context it is essential that our links with European organisations remain strong, firstly in order that the quality of research remains outstanding through a culture of academic exchange, and secondly so that the results of this research can have positive impacts on the lives of humans and animals across many nations. The Veterinary Schools Council is committed to maintaining these bonds.'
Link: Bridging the Gap: Linking animal and human medicine through veterinary school research and One Health