Orientation for new Veterinary Medicine and Veterinary Nursing Students
Orientation activities for new students took place across University College Dublin from 3 to 6 September. Among those taking part in Orientation were Veterinary Medicine (MVB) and Veterinary Nursing (BSc) students who joined the School of Veterinary Medicine for the first time this week.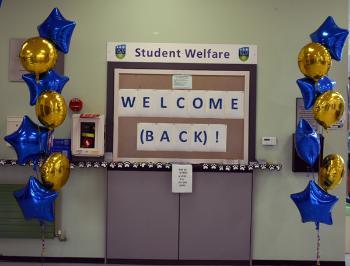 The first years have a packed schedule of events during Orientation, before starting classes when the new academic year begins on 9 September. The students were welcomed to the Vet School by the Dean & Head of School, Professor Michael Doherty, and they also attended the President's Welcome in O'Reilly Hall with UCD President, Professor Andrew Deeks.
The purpose of Orientation is to allow new students some time to familiarise themselves with the campus and also to learn more about what they can expect on their academic programme. On their first day in UCD, the students were taken on a tour of the UCD Campus, the Veterinary Sciences Centre and the UCD Veterinary Hospital. During the week, they were also introduced to the School's Clinical Skills Centre and our Graduate Entry MVB students spent some time on UCD Lyons Farm for animal handling sessions.
Students also meet with teaching staff in academic advisory sessions and learn more about supports available to them from our Student Adviser, Dr Niamh Nestor. Meeting their Peer Mentors is an important part of Orientation week for new students.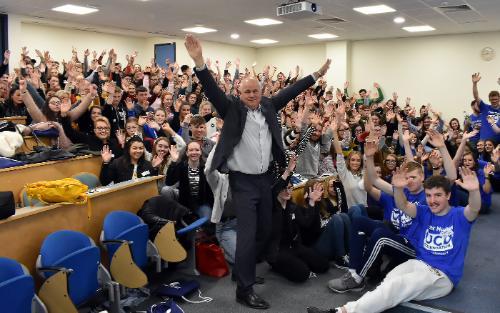 Peer Mentors are students who have already completed their first or second year of study and understand what it's like to be a new student at UCD. They are an integral part of helping new students with the transition from school to college life and are an invaluable resource at what can be a challenging time. The new students also had an opportunity to meet with UCD Vet Soc and Veterinary Nursing Society reps to learn more about the activities they organise across the academic year.
We are delighted to welcome our future veterinary professionals to the UCD School of Veterinary Medicine and we look forward to getting to know them over the coming academic year.
Pictured: Professor Michael Doherty (Dean & Head of School), Dr Niamh Nestor (Student Adviser), First Year Veterinary Medicine and Veterinary Nursing students and their Peer Mentors