UCD Veterinary Science ranked 24th in the 2018 QS World Rankings
Veterinary Science in UCD is now the highest ranked subject in Ireland
The QS World University Rankings were released on 28 February and the School of Veterinary Medicine was delighted to see that Veterinary Science in UCD is now ranked 24th in the world. This places Veterinary Science up a massive 16 places since it first ranked at number 40 in 2015, and makes it not only the highest ranked subject in UCD, but also sees us achieve Ireland's highest position overall. Veterinary Science in UCD scored particularly well on employer reputation and citations per research paper.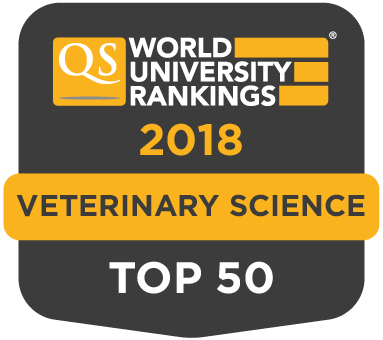 The UCD School of Veterinary Medicine is the only school of Veterinary Medicine on the island of Ireland. Accredited by the European Association of Establishments for Veterinary Education (EAEVE) and the Veterinary Council of Ireland (VCI), our MVB degree programme is one of only six in Europe fully accredited by the American Veterinary Medical Association (AVMA). We have a track record in education that is second to none and our excellence in teaching & learning, clinical and research work is widely recognised.
The QS World University Rankings by Subject ranks the world's top universities in 48 different subjects. UCD offers 45 of those subjects and was ranked in 34 across the five broad subject areas. The rankings are compiled on an annual basis, and their purpose is to help prospective students identify the leading universities in a particular subject. Research citations, along with the results of major global surveys of employers and academics are used to rank universities. Further information on the methodology behind the rankings is available here.
Professor Michael Doherty, Dean & Head of School, acknowledged this exceptional achievement and noted the contribution and huge team effort made by all of our staff over many years.