Publication of Two Multi-Institutional Studies Involving Portosystemic Shunts in Dogs
Congratulations to Dr Ronan Mullins, Assistant Professor in Small Animal Surgery and European Specialist in Small Animal Surgery, on the recent publication of two multi-institutional studies involving portosystemic shunts in dogs: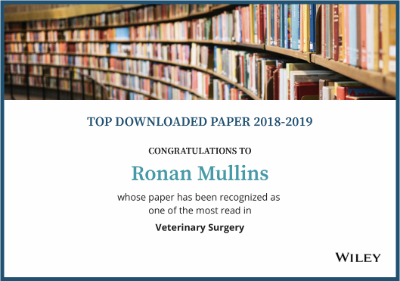 The research, led by Dr Mullins, was a collaboration of 16 veterinary academic institutions and private practice hospitals worldwide. One of the studies (Effect of prophylactic treatment with levetiracetam on the incidence of postattenuation seizures in dogs undergoing surgical management of single congenital extrahepatic portosystemic shunts) was recently acknowledged by Wiley Publishing as one of the top downloaded articles in Veterinary Surgery between January 2018 and December 2019 .
Ronan graduated from UCD in 2011 with a Bachelor of Veterinary Medicine Degree. He completed a rotating internship in small animal medicine and surgery at Davies Veterinary Specialists in Hertfordshire, UK in October 2012. He then went on to complete a combined four-year Doctorate of Veterinary Medical Specialization and residency in small animal surgery at UCD, completing this in May 2018 and becoming a diplomate of the European College of Veterinary Surgeons in February 2019. He is currently Assistant Professor of Small Animal Surgery in the UCD School of Veterinary Medicine. His doctoral thesis investigated the possible protective effect of prophylactic treatment with levetiracetam against development of post-attenuation seizures in dogs undergoing single congenital extrahepatic portosystemic shunt attenuation and prognostic factors for short-term survival.
Ronan enjoys all aspects of soft tissue and orthopaedic surgery but is particularly interested in portosystemic shunts and upper airway surgery in dogs and cats. His research here at UCD involves (1) investigation into the cause of and risk factors for post-attenuation seizures in dogs undergoing surgical closure of congenital portosystemic shunts, (2) investigation into the possible protective effects of drugs used to try to prevent these seizures (levetiracetam), (3) investigation of prognostic factors for survival following development of these seizures and (4) investigation into the medium to long term outcomes of dogs that experience post-attenuation neurologic signs and survive to 30 days. The findings of this research will help optimise preoperative medical management of dogs undergoing portosystemic shunt attenuation, identify dogs that may have a more favourable prognosis following development of post-attenuation seizures (Mullins et al, in press, Vet Surg), and identify risk factors for development of these seizures, which could help reduce their occurrence in the future. Other aspects of Ronan's research involve canine epiglottic retroversion (Mullins et al, in press, Vet Surg), use of ultrahigh molecular weight polyethylene for feline hip luxation, and urinary tract infections associated with indwelling urinary catheters in dogs.
For more on Ronan's research see: https://people.ucd.ie/ronan.mullins/about