Professor Simon More Elected Chair of EFSA's Scientific Committee
Professor Simon More has been elected Chair of the Scientific Committee (SC) of the European Food Safety Authority (EFSA) for 2018-21. The SC is EFSA's overarching scientific panel, conducting scientific assessments and developing related assessment methodologies relevant to the broad remit of EFSA's work. Previously, Simon was member (2009-12) then Chair (2012-18) of EFSA's Animal Health and Welfare Panel.
EFSA works to protect European consumers from farm to fork. It's an agency of the European Union, providing independent scientific advice on current and emerging risks associated with the food chain. The agency considers a wide range of on-farm (including animal health and welfare, plant health, plant protection products etc) and post-farm (including food ingredients and packaging, contaminants etc) issues. It produces scientific opinions and advice that form the basis for European policies and legislation. In the field of animal health and welfare, recent opinions have considered African Swine Fever (an assessment of measures to prevent spread), lumpy skin disease (the role of vaccination, post-vaccination strategies), the threat posed by vector-borne diseases, welfare insights on the slaughter of pregnant animals, control measures for bluetongue, and the emergence of Batrachochytrium salamandrivorans (a new fungus in salamanders within the EU). ‌
‌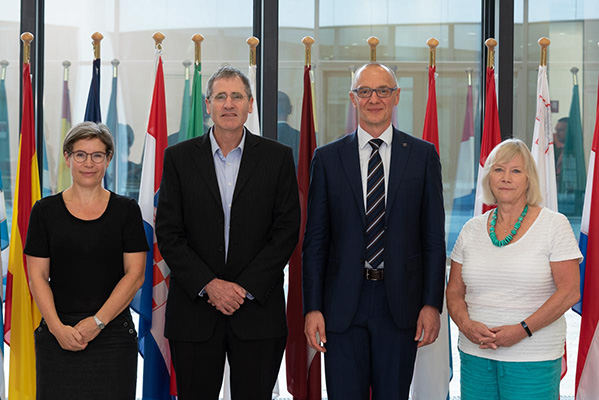 Pictured (L to R): 

Susanne Hougaard Bennekou (Vice Chair
), Simon More (Chair
), Bernhard Url (EFSA Executive Director) and Diane Benford (Vice Chair)
Professor Simon More is Associate Dean for Research, Innovation and Impact in the UCD School of Veterinary Medicine, Professor of Veterinary Epidemiology and Risk Analysis and is also Director of the UCD Centre for Veterinary Epidemiology and Risk Analysis (CVERA), Ireland's national resource centre for animal disease control. He works at the science-policy interface, providing scientific advice in support of national policy-makers, both within government and industry, the latter primarily through Animal Health Ireland. Simon also contributes to the work of the European Food Safety Authority (EFSA). From 2012 to 2018, he was chair of EFSA's Animal Health and Welfare Panel, which provides ongoing scientific advice on a broad range of animal health and welfare issues, primarily to support the work of the European Commission, and a member of the working group on African Swine Fever. He is also chair of EFSA's MUST-B working group, which is coordinating efforts towards an improved understanding of the impact of multiple stressors on honey bee colonies in Europe.
Simon is a graduate of both the University of Sydney and James Cook University of North Queensland, working in dairy practice and with beef and sheep farmers before specialising in veterinary epidemiology. He is a specialist within the Australian and New Zealand College of Veterinary Scientists in Epidemiology, and in the European College of Veterinary Public Health and the European College of Bovine Health Management. Simon works collaboratively with many Irish and international colleagues, using a range of epidemiological (population-based) approaches to better understand and to resolve animal health issues.

For more on the impact of Simon's work, see: http://www.ucd.ie/research/portal/impact/casestudycompetition/pdf/CASE_STUDY_SimonMore.pdf