UCD Veterinary Student awarded MSD FVE Scholarship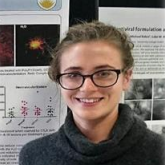 UCD School of Veterinary Medicine is delighted to congratulate Alice O'Byrne on her selection as one of just 16 European students awarded the MSD Animal Health and FVE Veterinary Student Scholarship for 2016.
Alice wrote her application to pursue summer research in the One Health area at UC Davis as part of our UCD2 programme. UCD School of Veterinary Medicine wishes her every success and we very much look forward to hearing about her experiences.
Text below taken from the official press release.
---
The MSD Animal Health and the Federation of Veterinarians of Europe (FVE) are pleased to announce that 16 students from the European Region have been selected for the 2016 Veterinary Student Scholarship Program.
The Review Committee selected 16 excellent students from Estonia, Finland, France, Germany, Hungary, Ireland, Romania, Slovakia, Spain, Sweden and United of Kingdom. They will be granted 16 scholarships of $5,000 US Dollars with the aim to enhance their academic experience.

"The success of the scholarship program proves how important is encouraging veterinary students to shape their future and the future of the veterinary profession." said FVE President Rafael Laguens, "Through these financial aids FVE is able to help students from different backgrounds but also to provide opportunities for hard-working students to extend their talents and pursue their aspirations".
"As a company rooted in science, we recognize and value the vital role of veterinarians," said Dr. Hans-Guenther Dittrich, Head of Europe, Russia, North Africa, Middle East, MSD Animal Health. "MSD Animal Health is proud to support these deserving students who have the potential to better our industry and make impactful contributions that will advance the ways in which we approach veterinary medicine".
MSD Animal Health partnership with the FVE aligns with the FVE's mission to assure and promote animal health and welfare and public health globally, through developing and advancing veterinary medicine and the veterinary profession.
FVE is also extremely grateful for the support given by the European Association of Establishments for Veterinary Education (EAEVE) and the International Veterinary Students' Association (IVSA) in running this Veterinary Student Scholarship Program 2016.