VetEd 2018 - University of Utrecht
The 9th Annual Veterinary Schools Council Veterinary Education Symposium, otherwise known as VetEd, took place in the University of Utrecht, Netherlands from 4 to 6 July this year. This annual symposium brings together veterinary educators from across the world to share veterinary innovation, research and best practice. This year's symposium offered delegates a range of workshops, keynotes and short presentations. The pre-conference workshops focused on educational research design, student well-being, competency-based education, entrustable professional activities and blended learning. The 2018 meeting attracted a record attendance, with a total of 144 conference presentations, including 80 poster presentations.

Included in this, was a delegation from the UCD School of Veterinary Medicine, whose presentations highlighted the scope of teaching research and innovation in the School.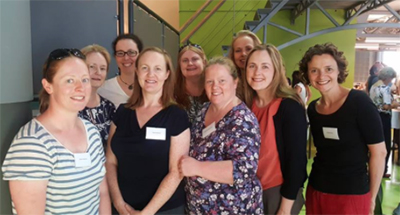 Pictured are (L-R): Diane Cashman, Maire O'Reilly, Karen Dunne (DkIT & UCD PhD student), Niamh Nestor, Orla Hanratty, Catherine McCarney, Margot Labberté, Niamh O'Donoghue and Annetta Zintl.
Contributions from the UCD School of Veterinary Medicine team included:
Niamh O'Donoghue, Deirdre Campion - The use of video feedback during a formative OSCE - does it lead to improved performance in the subsequent summative exam? (Poster and presentation)
Niamh Nestor, Orla Hanratty, Sue Rackard, Diane Cashman, Niall Watts - Student Engagement Data Analytics (SEDA) Project at UCD School of Veterinary Medicine (Poster and presentation)
Margot Labberté, Catherine McCarney - The use of ultrasonography on cadavers as an enhancer of student learning experience in pre-clinical anatomy teaching (Poster and presentation)
Karen Dunne - Whiteboards in the classroom: is the marker mightier than the phone? (Poster and presentation)
Diane Cashman, Sue Rackard, Nicola Walshe - Student Experiences of Clinical Extra-Mural Studies in University College Dublin (Short communication)
Congratulations to Niamh O'Donoghue (pictured), who was the recipient of this year's VetEd Best Poster Award; this award was introduced to promote innovation in veterinary education. The presentations were judged on the quality of the abstract, the level of innovation and the possible impact on veterinary education.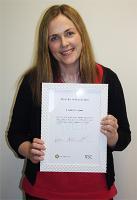 The symposium also offered our team the opportunity to exchange ideas on the incorporation of humane education initiatives into the curriculum. Initiatives discussed included advances in simulation developments and the use of reusable digital learning resources. Catherine McCarney and Margot Labberté also took the opportunity to liaise with the anatomy teaching and technical staff at Utrecht to explore their methods for the preparation, maintenance and use of anatomical resources. Many thanks to Dr Claudia Wolschrijn and Dr Jacobine Schouten for their assistance with this.

VetEd 2019 will take place next July at the Royal Veterinary College in London and we're already looking forward to meeting colleagues and sharing ideas at this important event.
For more on VetEd 2018, please see http://www.veted2018.nl