'Sire' by Maria McKinney at the Wellcome Collection (London)
'Sire' by Maria McKinney is currently exhibited at the Wellcome Collection in London as part of the 'Somewhere In Between' art and science exhibition. 'Sire' makes visible the industrialised practices that have come to characterise modern cattle breeding.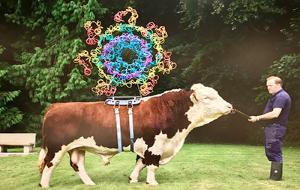 In the process, it questions how our alienation from agriculture is changing our relationship with food. Weaving pagan motifs with genetic patterns, 'Sire' is an invitation to think critically about contemporary cultivation and consumption. Professor Michael Doherty, Dean & Head of School, and Professor David MacHugh from the School of Agriculture & Food Science, worked closely with Maria on this project.
Maria McKinney is an artist based in Dublin. She undertook a residency at University College Dublin in 2016. Her work explores the impact of human intervention on the natural world, often bringing together unusual contemporary materials and traditional craft techniques. She was awarded a Wellcome Arts Award in 2015 to produce 'Sire'.
For more on 'Sire,' see: https://wellcomecollection.org/installations/WryoVx8AAAjk9Xmg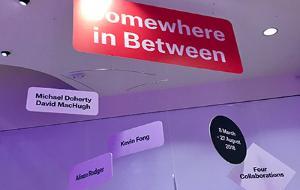 There are four exhibits in the 'Somewhere in Between' exhibition, and they all came about through collaborations between artists and scientists exploring ideas that are vital to human life – ideas about our food sources, our senses, our sexual health and the limitations of our bodies. The exhibition is free and runs until 27 August. For more on this fascinating exhibition see: https://wellcomecollection.org/exhibitions/WhvoAykAACgAlDoo
The Wellcome Collection is a free museum and library that aims to challenge how we all think and feel about health. Through exhibitions, collections, live programming, digital, broadcast and publishing, opportunities are created for people to think deeply about the connections between science, medicine, life and art.