White Coat Ceremony - Veterinary Medicine & Veterinary Nursing Classes of 2020
On Thursday 7 March, the School of Veterinary Medicine's annual White Coat Ceremony took place in O'Reilly Hall. For the first time, Veterinary Nursing students joined their Veterinary Medicine counterparts in formally receiving their clinical dress at the ceremony. Over 150 students from both classes were joined by their family and friends, along with staff from across the School, to celebrate this important occasion.
The Dean, Professor Michael Doherty, opened proceedings by welcoming the students and their guests to the White Coat Ceremony, before handing over to the School's Student Adviser, Dr Niamh Nestor, who was the Master of Ceremonies for the event.
The students received their white coats from Dr Marijke Beltman, Dr Vivienne Duggan, Dr Eoin Ryan and Dr Joe Cassidy (Veterinary Medicine) and Ms Pamela Gillick, Dr Robin Farrell and Mr Mark McCorry (Veterinary Nursing). Dr Antonella Puggioni led the Veterinary Medicine class in the recitation of the Veterinarian's Oath, before Dr Robin Farrell, Director of the Veterinary Nursing Programme, gave the keynote speech.
The White Coat Ceremony is an important event in the School's calendar and we would like to thank the Class of 2020 White Coat Committee and our School Office Team for all of their hard work in organising this event. We were delighted to see so many families and friends, from both home and abroad, in attendance to support the students and we hope an enjoyable day was had by all!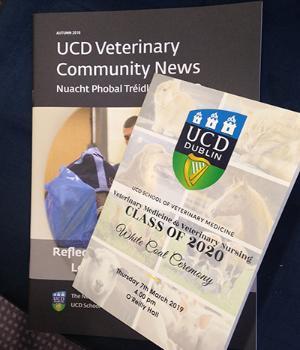 Welcome to the UCD School of Veterinary Medicine White Coat Ceremony!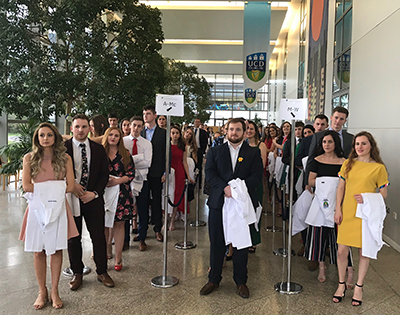 Lined up and just about ready to go!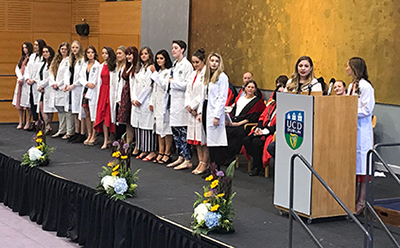 The Class of 2020 White Coat Committee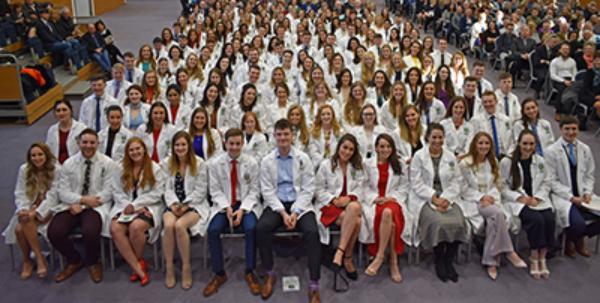 The Veterinary Medicine and Veterinary Nursing Classes of 2020