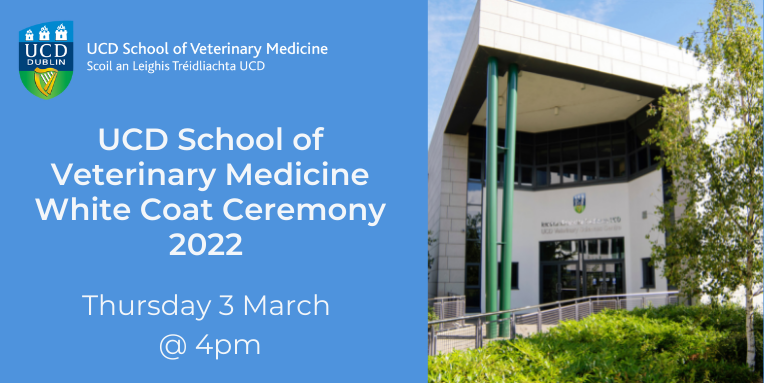 On Thursday 3 March 2022 at 4pm (Dublin Time) the UCD School of Veterinary Medicine will celebrate the milestone achievement of the Veterinary Medicine and Veterinary Nursing Classes of 2023 as they receive their white coats in UCD's O'Reilly Hall.
The White Coat Ceremony is an important event in the UCD School of Veterinary Medicine calendar as it marks the students' transition into clinical practice in the UCD Veterinary Hospital, and beyond, in the final year of their degree programmes.
Our guest speaker at this year's White Coat Ceremony is Mr Eoin Ryan.
For those who are unable to join us in Dublin on 3 March, the event will be livestreamed here on our website.
The White Coat Ceremony programme can be accessed by clicking on the link below:
White Coat Ceremony 2022 - Programme
Veterinary Medicine & Veterinary Nursing Classes of 2023