3rd May 2018, 08:30 - 13:00 at George Moore Auditorium, UCD O'Brien Centre for Science
Add to calendar
Rare Disease Symposium
A Rare Diseases Symposium is being held on Thursday 3rd May 2018 from 8:30am to 1pm at the George Moore Auditorium, UCD O'Brien Centre for Science.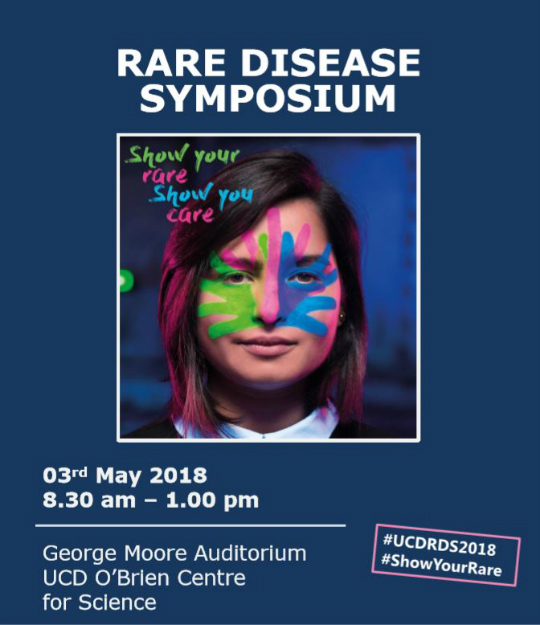 The event is being opened by Professor Orla Feely, UCD Vice President for Research, Innovation and Impact and will feature presentations by UCD academic staff with interest in the area as well as key collaborators and stakeholders. Contributors will include:
Prof Eileen Tracey, National Clinical Lead, Rare Diseases
Dr Sean Ennis, Director, UCD Academic Centre on Rare Diseases
Mr Philip Watt, CEO, Cystic Fibrosis Ireland
Dr Avril Kennan, CEO, Medical Research Charities Group
Prof Thilo Kroll, UCD Prof of Health Systems Management
Dr Atif Awan, Consultant Paediatric Nephrologist, TSCUH
Prof Sally Ann Lynch, UCD Associate Clinical Professor and Consultant Geneticist, OLCHC
Mr Fred Doherty, Hrad of Government Affairs and Market Access, Genzyme
Ms Raquel Castro, Head of Social Policy EURORDIS
Alison Wilson, MPS All Ireland Patient Advocacy Officer
Dr Avril Daly, CEO, Retina International
Dr Suja Somanadhan, Asst Prof, Children's Nursing, UCD
Ms Anne Lawlor, Parent, 22q11 D
Ms Meabh Hennelly, Sibling, Cystinosis
Ms Dipti Pandya, Senior Manager, UCD Research
Dr Derick Mitchell, CEO, IPPOSI
Nursing Students
Medical Students
Programme
Registration
This event is free but registration is advised as there is a finite capacity. Please register via Eventbrite here.
Meeting Sponsors
The meeting is being organised by Rare Disease Ireland, the Medical Research Charities Group, the Irish Platform for Patient Organisations, Science & Industry and by staff within the College of Health & Agricultural Sciences.