European HIV Testing Week
European HIV testing week takes place the week of Friday 21st November to Friday 28th November 2014, the week leading up to World AIDS Day on 1st December 2014. Now in its second year, the testing week aims to make people aware of their HIV status and reduce late diagnosis. It is estimated that 30-50% of the 2.3 million people living with HIV in Europe are unaware that they are HIV positive; and 50% of those who are positive are diagnosed late, delaying access to treatment. In Ireland we have 349 new cases of HIV this year so far; this is 5 more than the total new diagnoses for 2013.
Dr Paddy Mallon's HIV Molecular Research Group (HMRG) is conducting a rapid HIV screening study based at the Emergency Department in the Mater Hospital. The study called the Mater-Bronx Rapid HIV Testing project (M-BRiHT) is collaboration between UCD, the Mater Misericordiae University Hospital and the Jacobi Medical Centre in the Bronx New York.
The M-BRiHT study offers free HIV testing and counselling to anyone attending the Emergency Department and aims to establish a HIV screening programme and increase positive dialogue and awareness of testing – to 'know your status'. To date over 10,000 people have enrolled in the study with over 80% of those opting to take the rapid test.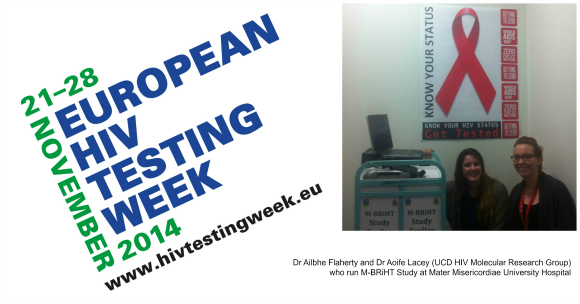 In conjunction with the European HIV Testing Week, the HMRG will be engaging in activities around the Mater and Belfield campus to promote HIV awareness, testing, and prevention – So for European HIV Testing Week – 'know your status'.
Further Information
European HIV Testing Week 2014
UCD HIV Molecular Research Group
Read more about the M-BRiHT project.