Order to Detain Sighle Humphreys under the Public Safety (Emergency Powers) Act, 1923
Sighle Humphreys (1899–1994), republican activist, was born in Limerick, the only daughter of Dr David Humphreys and Mary Ellen ('Nell') O'Rahilly, sister of Michael Joseph, (The O'Rahilly). Her father died four years after her birth. She had two brothers, one of whom was Richard Humphreys. The family background was uncompromisingly nationalist.
The Humphreys family moved to Dublin in 1909. Humphreys was educated at Mount Anville secondary school, near Dundrum, Co. Dublin, and Lower Leeson Street, Dublin. From 1919–20 she studied French civilisation at the University of Paris. Humphreys learned Irish in early life, becoming a fluent speaker; she paid regular visits to the Kerry Gaeltacht throughout her life.
Sighle's brothers joined the Irish Volunteers, and she participated in pre-1916 Volunteer activities. Humphreys joined Cumann na mBan in 1919 and was active throughout the War of Independence, acting as a courier and carrying out organisational work in Kerry in 1921. On 4 November 1922 Ernie O'Malley was captured at the Humphreys house after a shootout in which Sighle Humphreys fired on the Free State forces. The whole family were arrested. Humphreys was imprisoned in the North Dublin Union, Mountjoy, and Kilmainham, spending three months in solitary confinement for participating in a protest; she was released in November 1923 following a hunger strike.
The papers of Sighle Humphreys held in UCD Archives contain documents relating to the O'Rahilly, Humphreys and O'Donoghue families, as well as documents relating directly to the life and activities of Sighle Humphreys. Included are correspondence and memoirs from her imprisonment, 1922–3. The document below is from this period: UCDA P106/1045 Public safety (Emergency Powers Act) No.2, 1923. Order from the Minister for Defence, Richard Mulcahy, to detain Sighle Humphreys under military custody. The order states: "I am of the opinion that public safety would be endangered by the prisoner being set at liberty".
UCDA P106/1045 Papers of Sighle Humphreys. Order from the Minister for Defence, Richard Mulcahy, to detain Sighle Humphreys in military custody, 8 August 1923.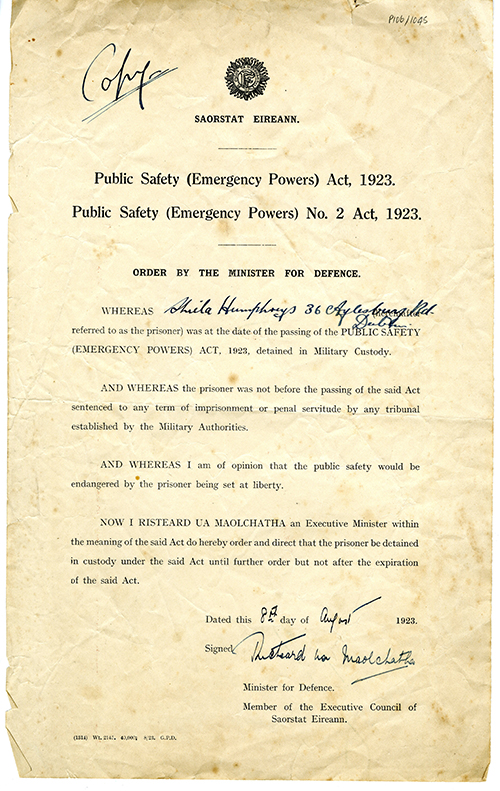 UCDA P106/1022 Papers of Sighle Humphreys. Humphreys pictured in the garden of 14 Herbert Park in [Cumann na mBan] uniform, [c. 1915].