Letter from Mary Spring Rice to Dorothea Knox, 10 March 1922
Mary Spring Rice (1880–1924) was the second child and only daughter of Thomas Spring Rice, 2nd Baron Monteagle of Brandon, Co. Kerry, and his wife, Elizabeth Butcher. She grew up at Mount Trenchard, Foynes, Co. Limerick. A fluent Irish speaker, she was a member of the Gaelic League and served on the board of Irish summer school, Coláiste Uí Chomhraí, in Carrigaholt, Co. Clare.
Sping Rice was an activist for nationalist and trade union causes. She joined the United Irishwomen and the Limerick branch of the Irish Countrywomen's Association. She served on the Anglo-Irish committee formed in London in May 1914 to help the Irish Volunteers, and through that organisation and her friendship with Erskine Childers and Roger Casement, became involved in the transportation of arms from Germany to Ireland. Her Asgard diary was published in F.X. Martin, 'Howth gun running' (1964).
Throughout the War of Independence and the Civil War, Spring Rice continued her involvement in the nationalist movement. Instictively anti-Treaty, she took a pro-Treaty position believing that it would lead to independence and less bloodshed. A diagnosis of tuberculosis led to her travelling to a sanitorium in Wales, where she died in 1923. She is buried in Foynes.
In her letters to her cousin Dorothea Knox, written throughout 1921 and 1922, she discusses her activism, Irish language issues and the Treaty. In the letter below, Spring Rice comments on the pro- and anti- Treaty sides in the Foynes Cumann na mBan, her decision to join Cumann na Saoirse, and her her stuggle with her pro-Treaty stance.
UCDA P235/11 Papers of Mary Spring Rice. Letter from Mary Spring Rice to Dorothea Knox, 10 March 2022.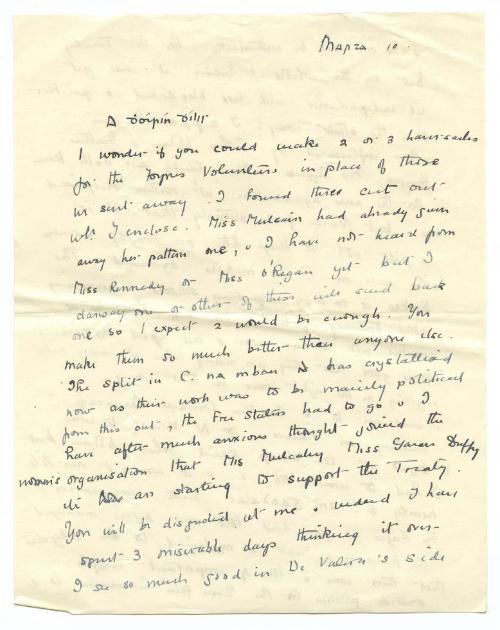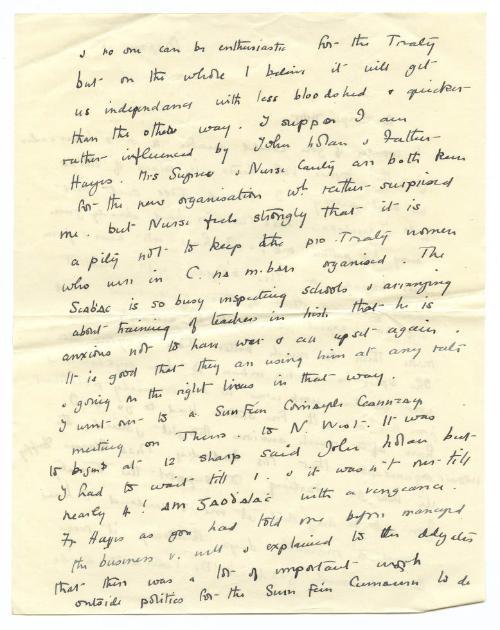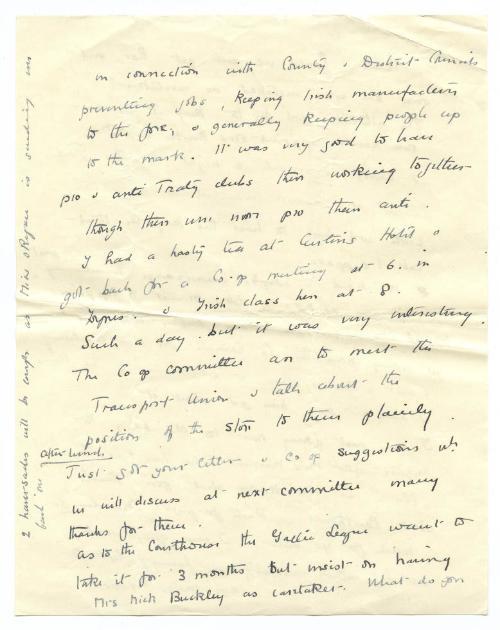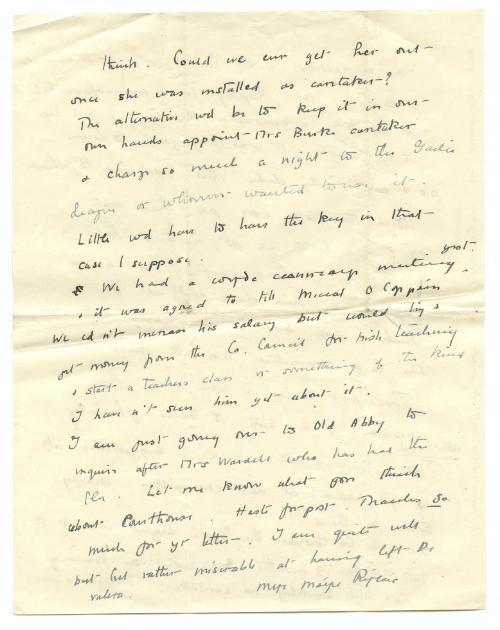 Marta 10
A Dhóirín dhílis
I wonder if you could make 2 or 3 haversacks for the Foynes Volunteers in place of those we sent away. I found three cut out which I enclose. Miss Mulcair had already given away her pattern[ed] one, & I have not heard from Miss Kennedy or Miss O'Regan yet but I daresay one or other of these will send back one so I expect 2 would be enough. You make them so much better than anyone else.
The split in Cumann na mBan has crystallised now as their work was to be mainly political from this out, the Free Staters had to go & I have after much anxious thought joined the women's organisation* that Miss Mulcahy, Miss Gavan Duffy etc are starting to support the Treaty. You will be disgusted at me, indeed I have spent 3 miserable days thinking it out. I see so much good in De Valera's side & no one can be enthusiastic for the Treaty but on the whole I believe it will get us independence with less bloodshed & quicker than the other way. I suppose I am rather influenced by John Nolan & Father Hayes. Mrs Sugrue & Nurse Carty are both keen for the new organisation which rather surprised me, but Nurse feels strongly that it is a pity not to keep the pro-Treaty women who were in Cumann na mBan organised. The Seabhac** is so busy inspecting schools & arranging about training of teachers in Irish that he is anxious not to have war and all upset again. It is good that they are using him at any rate & going on the right lines in that way.
I went over to a Sinn Féin Comhairle Ceantair meeting on Thursday to [North] West. It was to begin at 12 sharp said John Nolan but I had to wait till 1. & it wasn't over till nearly 4! Am Gaodhalach with a vengeance. Fr Hayes as you had told me before managed the business very well & explained to the delegates that there was a lot of important work outside politics for the Sinn Fein Cumann to do in connection with County & District Councils presenting jobs, keeping Irish manufacturers to the fore; & generally keeping people up to the mark. It was very good to have pro & anti Treaty clubs there working together though there were more pro than anti. I had a hasty tea at Curtains Hotel & got back for a Co-op meeting at 6. in Foynes & Irish class then at 8. Such a day, but it was very interesting. The Co op committee are to meet the Transport Union & talk about the position of the stop to them plainly.
[2 haversacks will be enough as Miss O Regan is giving me back one after lunch]
Just got your letter & Co op suggestions [which] we will discuss at next committee many thanks for these.
As to the Courthouse the Gaelic League want to take it for 3 months but insist on having Mrs Mick Buckley as caretaker. What do you think? Could we ever get her out once she was installed as caretaker? The alternative would be to keep it in our own hands appoint Mrs Burke caretaker & charge so much a night to the Ladies League or whoever wanted to use it. Little would have to have the key in that case I suppose.
We had a coisde ceantair meeting yesterday, it was agreed to take Miceal O Corrain. We couldn't increase his salary but would try & get money from the Co. Council for Irish teaching & start a teacher's class or something of this kind. I haven't seen him yet about it. I am just going over to old Abby to inquire after Mrs Wardell who has had the flu. Let me know what you think about [the] Courthouse. Haste for post. Thanks so much for your letter I am quite well but but rather miserable at having left De Valera.
Mise Máire Ríseach
* Cumann na Saoirse
** Pádraig Ó Siochfhradha