fix bar
fix bar
fix bar
fix bar
fix bar
fix bar
What
Hold on tight, we're taking a trip through time! Travel with Izzy and Phil to discover how things were made in the past, what kind of medicines were used and lots more! Find out how we make things today and what we can expect to see being made in the future!
Who
We talked to lots of engineers and scientists and saw how people work with robots to make things. We even tried some prototyping and learned how to improve designs using the scientific method!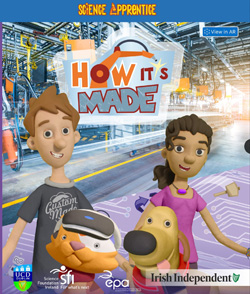 Coming Soon !

Interactive book
Collect your copy of How it's made with the Irish Independent in SuperValu stores on the 24th of November.Check back to this page soon to read the full book !